Trans-Pacific Partnership Winners: Toyota, Japanese Automakers Could Still Use Mostly Chinese Car Parts While Enjoying Reduced Tariffs Under TPP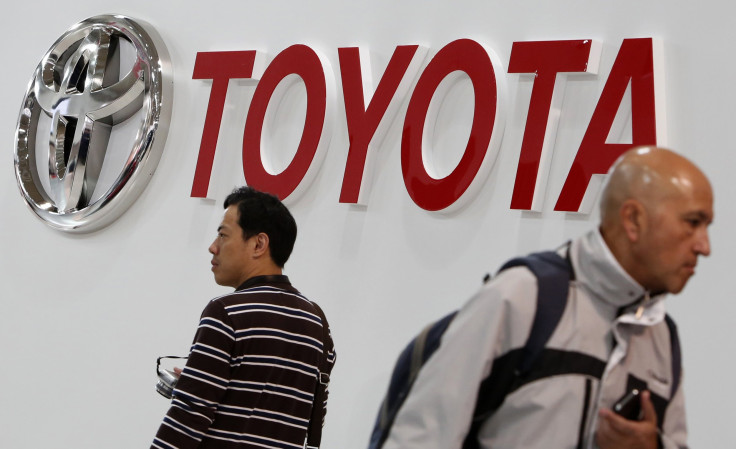 For many companies, labor groups and rights organizations, the Trans-Pacific Partnership deal, reached before dawn Monday, is a threat shrouded in secrecy. But Japan's automakers, including Toyota Motor Corporation, are probably not among the critics. The industry is one of the clearer winners in a deal that probably will let it manufacture U.S.-bound cars with parts bought elsewhere in Asia and still enjoy the TPP's tariff reductions. In fact, Toyota and Japanese auto industry groups lobbied heavily on that very issue for years, records show.
The question of "rules of origin" for auto parts had been a stumbling block in discussions on the Trans-Pacific Partnership until the end of September, when Mexican and Canadian negotiators appeared to relent and allow the majority of a vehicle's parts to be sourced from outside the 12 countries that are parties to the regional trade deal. Those negotiators ultimately aimed for 45 percent of auto parts to be bought locally, while Japanese negotiators had sought a 32.5 percent floor for local parts, Reuters reported. Because the final text of the deal has not been published, the ultimate percentage remains unclear. But either option would allow for the majority of a vehicle's components to be sourced from outside TPP countries.
If ratified, the TPP would be the largest regional trade deal in history, encompassing 12 countries on four continents and some 40 percent of the global economy. Monday's agreement follows more than five years of negotiations, but it has to be approved by legislators in the countries involved, including the United States, before taking effect.
The deal would eliminate or reduce tariffs and other barriers between countries across "the full spectrum of trade, including goods and services trade and investment," according to a statement from U.S. Trade Representative Michael Froman.
In order for goods to benefit from these tariff reductions, the agreement imposes minimums for locally sourced materials, the statement added. "The 12 parties have agreed on a single set of rules of origin that define whether a particular good is 'originating' and therefore eligible to receive TPP preferential tariff benefits," it explained. Those specific rules are laid out in the text of the agreement.
U.S. lawmakers have pushed back against provisions allowing car companies to source a significant percentage of their parts from other nations. Reductions in rule of origin standards in the TPP "would hurt American workers and manufacturers," Sen. Sherrod Brown, D-Ohio, said in a statement Thursday, citing reports of a 45 percent rule of origin for auto parts. By comparison, the North America Free Trade Agreement requires a vehicle to be manufactured with 62.5 percent regional parts.
Japan in recent years has come under financial pressure to source car parts from China, where suppliers are less expensive and the quality of those parts has improved. In 2013, for instance, the Japanese car company Nissan's vehicles were 15 to 20 percent made with Chinese parts, and it had set its sights on increasing that to 35 percent, Reuters reported.
Continuing to buy more parts from China could help keep costs down for these companies, and the Japanese car companies have pushed hard to preserve their ability to rely on such parts while benefiting from tariff reductions offered in the TPP.
Trans-Pacific Partnership | Graphiq
In 2015, the Japan Automobile Manufacturers Association paid lobbyists tens of thousands of dollars "to promote cooperation on U.S.-Japan auto trade issues" and "to prevent the imposition of discriminatory non-market mechanisms," lobbying records show.
In 2013, Toyota poured more than $1 million into lobbying that in part aimed to influence TPP negotiations along the same vague lines: "preventing imposition of market-distorting trade policies." This year, Toyota Motor Corporation's spending on lobbyists rose to more than $3 million, including $1.7 million on trade matters like the TPP negotiations and preventing "market-distorting trade policies."
In the 2014 election cycle, Toyota Motor North America contributed $284,500 to federal candidates and parties, 43.6 percent to Democrats and 56.4 percent to Republicans, according to the Center for Responsive Politics.
© Copyright IBTimes 2022. All rights reserved.
FOLLOW MORE IBT NEWS ON THE BELOW CHANNELS