TransAsia Flight 235: Crash Is Airline's Second Deadly Accident In Seven Months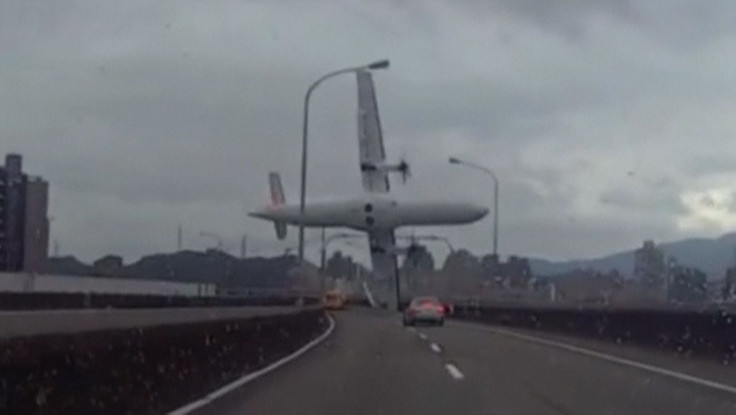 A TransAsia Airways plane that crashed near Taipei on Wednesday marks the second fatal accident for the airline in seven months, and the fourth deadly crash involving the carrier's ATR-72 aircraft since 1995. At least 23 deaths have been confirmed so far in the accident, in which the twin-engine turboprop plane clipped a bridge and plunged into the Keelung River. At least 20 people from Flight 235 are still missing, and search and rescue efforts were underway at dusk.
TransAsia lost another ATR-72 aircraft on July 23, when the plane passed through a typhoon while attempting to land in Taiwan's Penghu Islands. The crash -- Taiwan's deadliest in more than a decade -- killed 48 people and injured 15 others. A preliminary report issued by Taiwan's Aviation Safety Council in December suggested that a sudden lack of visibility and poor communications with the flight deck may have precipitated the accident.
The ATR-72 aircraft is a twin turboprop manufactured by Toulouse, France-based Avions de Transport Régional, a partnership between Airbus and Italian company Alenia Aermacchi. The company, which produces the 70-seat ATR 72 and 50-seat ATR 42, has sold 1,500 aircraft in more than 90 countries around the world, according to its website, making it one of the most commercially successful regional aircraft. In a statement released by ATR on Wednesday, the company confirmed that it would advise and work with authorities investigating the crash.
The plane involved in Wednesday's crash had only been delivered to TransAsia Airways in April 2014, according to commercial aviation website Planespotters.net. TransAsia said in a statement that the plane had just been serviced on Jan. 26, according to a report in Singapore's Straits Times.
Despite the aircraft's recent incidents, experts are not concerned with the ATR-72's safety record. "The ATR-72 has proved to be a reliable airplane," said Harro Ranter, CEO of Aviation Safety Network. "Most fatal accidents involving this type [of plane] were weather related."
TransAsia Airways is Taiwan's third-largest carrier by fleet size, after China Airlines and EVA Airways. It mainly flies from Taiwan to other destinations in northeast Asia, such as China, Japan, Thailand and South Korea. In addition to the two most recent fatal accidents, TransAsia has had two other crashes in which crew members died, and two accidents without fatalities since 1995. However, the airline has passed international safety audits and is a full member of the International Air Transport Association.
"It's too early to tell if the recent two TransAsia accidents have been unfortunate or if there's an underlying safety threat," Ranter said in an email to International Business Times.
But the two crashes in seven months are sure to invite scrutiny of its safety standards from regulators. Investigators will likely focus on cockpit procedures and potential maintenance issues with Wednesday's Flight 235, Greg Waldron of aviation news network Flightglobal told NBC News.
"Coming so soon after July's crash, the airline could come under intense scrutiny by regulators, not to mention the impact this will have on public perceptions of the carrier," Waldron said.
Taiwan's most serious airline accident occured in 2002 when a China Airlines Boeing 747 en route to Hong Kong broke apart midair, killing all 225 people on board. That and a spate of other major incidents involving Taiwan's airline industry in the 1990s and early 2000s prompted the country to revamp its regulatory agencies and safety procedures.
© Copyright IBTimes 2023. All rights reserved.