TransAsia Flight 235: Videos Of Crash Circulating On Internet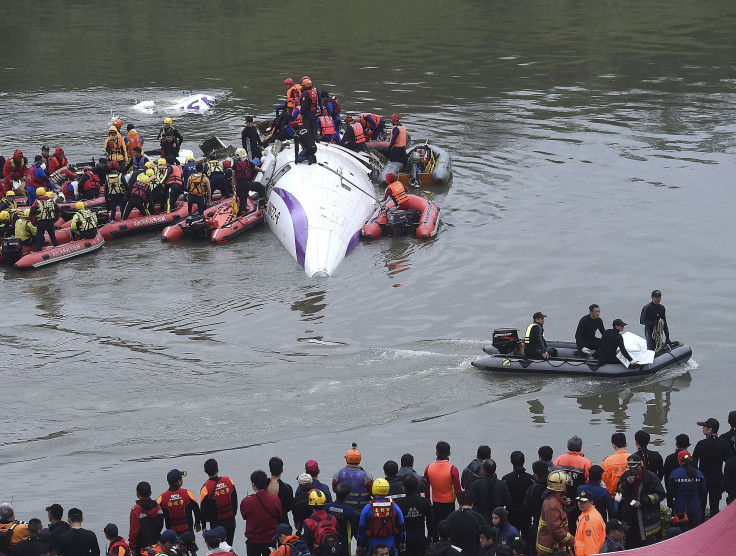 Videos of TransAsia Airways Flight 235's deadly crash in Taiwan on Wednesday that show part of the doomed plane's wing clipping an overpass have begun surfacing on the Internet. At least 23 of the 58 people on board were killed as the plane crashed into the Keelung River near Taipei, and rescuers are still actively trying to find any survivors.
In the videos recorded by various dashboard cameras, the plane was seen plummeting toward the highway at a tilt, with its wing eventually hitting a taxi, then the roadway, after which the aircraft plunged into the river below. The video above was recorded from the first vehicle behind the taxi that was hit by the plane. The video below shows the same scene but recorded from the second car behind the same taxi.
"I saw a taxi, probably just meters ahead of me, being hit by one wing of the plane. The plane was huge and really close to me. I'm still trembling," one witness told TVBS news channel. The crash happened around 11 a.m., Taipei time, and rescuers have been dispatched to save any survivors before the plane sinks into the river, shown in the footage below.
According to a TransAsia statement released on Wednesday evening, 23 were confirmed dead, with 15 injured and 20 still missing. This crash is TransAsia Airways' second crash in months; another domestic flight went down in July, killing 48.
The plane's flight data recorder and cockpit voice recorder, otherwise known as the black box, were found on Wednesday, and they were expected to be analyzed later in the day. According to Channel News Asia, recordings from local control towers revealed that the crew shouted, "Mayday! Engine flameout!" -- a reference to when a flame that normally burns in the engine goes out, causing failure.
"We want to apologize again. We are very sorry," TransAsia's CEO Peter Chen said in a statement, according to Channel News Asia. "TransAsia Airways will do its utmost to help our passengers, the injured, as well as the families of the passengers on board. We will deploy all our resources to help in the rescue efforts as well as in the aftermath of this incident."
© Copyright IBTimes 2023. All rights reserved.