TransAsia Flight 235 Crash: Crew Shut Off Working Engine After Other Lost Power, Report Says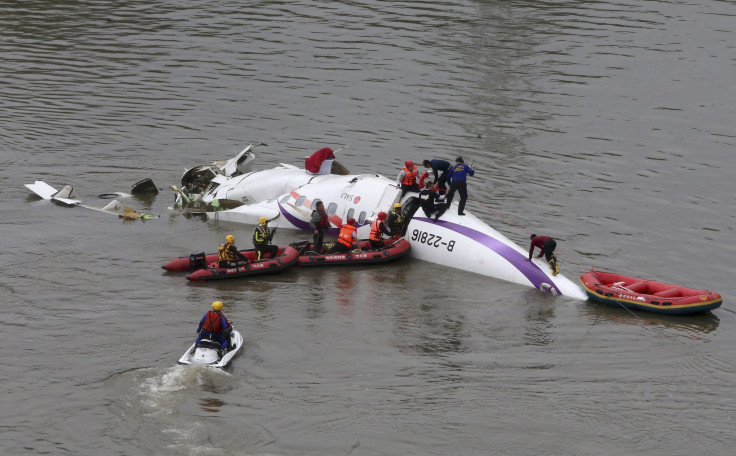 The crew of a TransAsia Airways ATR 72-600 plane, which crashed into a river in Taiwan in February killing 43 people on board, shut off the working engine after the other one lost power, a source close to the investigation into the crash said Wednesday, according to Reuters. Flight 235, which was carrying 53 passengers and five crew members on board, crashed into the Keelung River near Taipei while on its way to the Kinmen islands off the coast of southeastern China.
The twin-engine turbo-prop aircraft stalled and crashed shortly after its sole functioning engine was switched off, the source said, citing data from the investigation report, which is to be released Thursday. The latest findings by Taiwan's Aviation Safety Council (ASC) will also reportedly focus on flight operations, air-traffic control, weather, the air worthiness of the plane and other factors.
"The pilots made a mistake here. What makes this even more unbelievable, and unfortunate, was that the mistakes took place even though there were three pilots in the cockpit," a source, who did not want to be identified, said, according to Reuters. "That is why the focus of the investigation has been narrowed to the pilots and pilot training at TransAsia."
After the crash, Taiwan's Civil Aeronautics Administration (CAA) ordered all 55 of TransAsia's ATR pilots to undergo mandatory proficiency tests for handling an aircraft during engine failure. The Taiwanese government also ordered all local airlines to review their safety protocols in the event of a crash.
"It was difficult to believe the captain turned off the wrong engine, but it happened anyway. That's why tests were demanded of TransAsia's ATR pilots," another source told Reuters, according to the Guardian.
According to an initial analysis of the plane's flight data recorders, authorities said one of the plane's engines went idle 37 seconds after the aircraft took off from Taipei Songshan Airport. ASC authorities also said the pilot made a "mayday" call and announced a flameout 35 seconds after noticing an engine failure. However, the CAA confirmed that Taipei International Airport's control tower did not hear the "mayday" signal.
© Copyright IBTimes 2023. All rights reserved.
FOLLOW MORE IBT NEWS ON THE BELOW CHANNELS