Transfer Rumors: Juventus May Complicate Arsenal Plans For Lacazette
KEY POINTS
Juventus is starting to infuse new blood and is targeting Alexandre Lacazette
Mikel Arteta is not too keen on letting the French player go
Lacazette's list of suitors is growing as the transfer window nears, with Atletico Madrid and Inter Milan also in pursuit
Juventus F.C. has big plans for this summer, with reports emerging that Juve is targeting Alexandre Lacazette of Arsenal and that talks have already begun. If true, this may complicate the plans of the Gunners for the French football player.
According to Le10Sport, the Serie A champions have been in touch with the north London side as well as Lacazette's camp. However, Le Zebre seems to be fully aware of the plans of Arsenal for the 29-year-old striker. Aside from that, Lacazette is also under contract with the Gunners until 2022.
Lacazette, who joined Arsenal three years ago from Lyon, has not exactly performed well this season. He had a goal-scoring drought for almost a year and only ended that spell during a recent win over Wolverhampton. But even before that, the Gunners already had plans for Lacazette.
Lacazette has been mentioned as a possible pawn in the pursuit of Arsenal for Thomas Partey. Atletico Madrid seems interested in taking the French striker, although Arsenal is not the only one pursuing the Ghanaian player. Napoli F.C. has also expressed interest in Partey and is open to offering Arkadiusz Milik to sweeten the pot.
But Atletico appears to be interested in dealing with Arsenal. The club is open to lowering their asking price, but this still depends on whether or not Mikel Arteta would be amenable to the idea.
The Gunners manager revealed he was happy with Lacazette and did not elaborate, focusing only on the current season.
"Why would I want to lose a player like him?! I am really happy with him," Arteta said.
Despite being on the brink of copping another Serie A title, it appears Juventus is looking ahead. Cristiano Ronaldo and Gonzalo Higuain are not getting any younger and they need to infuse young blood. Paulo Dybala is around, but more fresh legs are needed. Lacazette has been singled out as someone who could perfectly fit in.
Another team in pursuit of Lacazette is Inter Milan, according to L'Equipe.
With multiple teams after him, there is no telling if Arteta would agree to any deal involving the French player. A sale of Lacazette could offer the Gunners some flexibility come the transfer window. Like most clubs, they have not been spared from the financial crunch, which may hint that they may need to unload some players.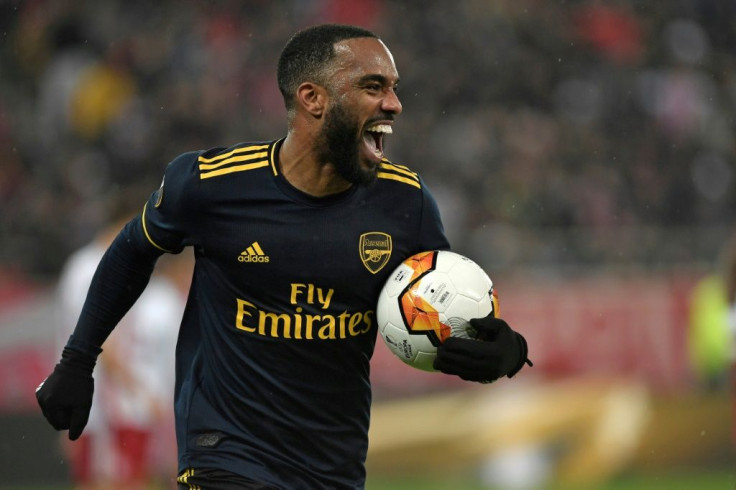 © Copyright IBTimes 2023. All rights reserved.