Trevor Bayne becomes youngest Daytona 500 winner, calls his car a 'Rocket Ship'.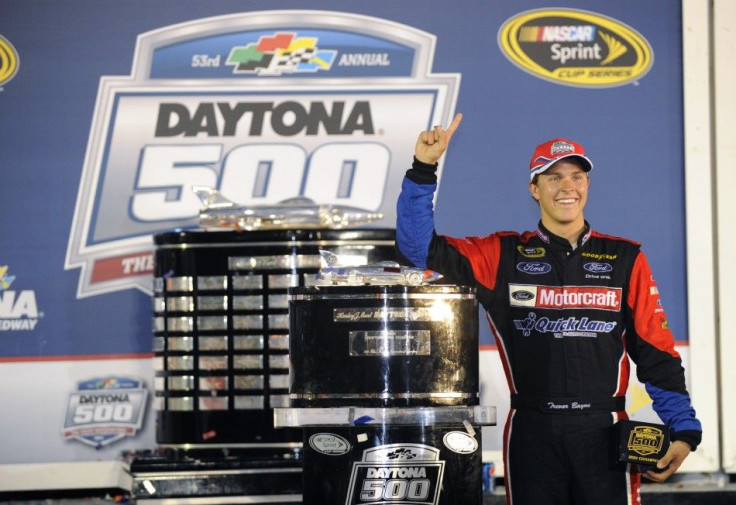 Even when 20-year-old Trevor Bayne led a pack of veterans in the last lap of the season-opening Daytona 500, there was disbilief amongst the capacity audience. Even when he was the first to cross the checkered flag, the disbelief prevailed. Once reality struck however, they realized that they had just witnessed history.
A 20-year-old rookie, making just the second start of his career, won the Daytona 500 for a team who last won it 35 years back. Though the win came after many top drivers were eliminated, it is still impressive considering his tender age and inexperience. With the win in the Great American Race he surpassed Jeff Gordon's record set in 1995 as the yongest winner. Gordon was 25 at the time. Bayne is just 20. Potential for greatness radiates from him.
Even in his words, Bayne exuberated dignity. He said, If I tried to put it into words, I couldn't do it any justice. I'm just glad I got to be the guy sitting behind the wheel for these guys (Woods Brothers Racing) to get this win, He then went on to call his car a rocket ship.
Reportedly, some of the first words he uttered after emerging victorious was, How cool is it to see the Wood Brothers back in Victory Lane?
Eddie Wood, leader of the team, said, He has tremendous awareness in the car. The great ones are like that. And he will be the great one.I told someone the other day he might be the next big deal. He will be.
Wood went on, He knows how to do this.I was talking with Richard Petty the other day, and we decided he doesn't know how to do it the wrong way.
Carl Edwards, who came in second behind Bayne, was full of praise for the youngster saying, I think the world is going to like him a lot before adding, a new winner, up-and-coming guy that's tied to so much history. This is as good as it gets. If people aren't watching, that's their problem, because we got some great stuff going on here.
Well said, Carl. This is NASCAR's answer to the gruelling questions about fall in tv ratings and attentance. There is no better way to spark the interest in a sport than an upset, and in this case, a mighty good one. It's not everyday that someone with the potential to be the next 'Big deal' comes along and makes his mark!
© Copyright IBTimes 2023. All rights reserved.