Trump Jr. Praises Poor People's Smile In Country Where Average Pay Is $3.20 A Day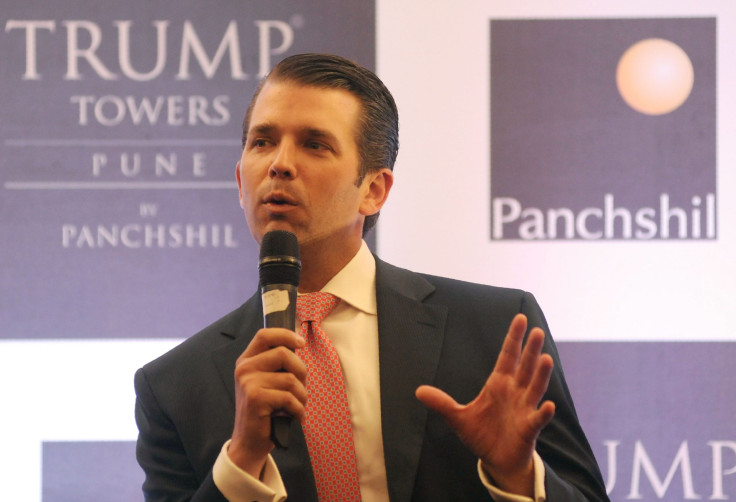 Donald Trump Jr. praised poor people's smiles on a business trip in India Wednesday, in a country where at least 60 percent of people live on less than $3.20 per day.
"I think there is something about the spirit of the Indian people that's unique here to other parts of the emerging world," Trump Jr. told Indian television station CNBC-TV18 in an interview Wednesday. "I don't want to be glib but you can see the poorest of the poor and there is still a smile on a face."
Trump's comments came during a trip where he is promoting real estate projects for the Trump Organization.
"It is a different spirit than that which you see in other parts of the world where people walk around so solemn," Trump Jr. continued. "I know some of the most successful people in the world and some of them are the most miserable people in the world."
According to a World Bank report last year, at least 60 percent of India lives on less than $3.20 per day and 80 percent of the country lives on less than $5.50 per day. The report was based on data from 2011. The country has been steadily building its economy, but still faces high and in some cases extreme poverty.
Since 2000, nearly 270,000 have committed suicide because of the inability to repay loans which average around $3,000, according to the Washington Post.
One of the Trump properties is in Gurugram, a city near New Delhi. The building has 254 condos for sale with an asking price of between $775,000 and $1.5 million, according to the Associated Press.
Trump Jr. arrived in the country Monday and will appear at a business summit Friday. India's Prime Minister Narendra Modi will also be at the summit —they do not have an official meeting scheduled, but may meet in passing, raising ethics concerns.
"I'm here as a businessman," said Trump Jr. in the interview. "Way before we were ever in politics, [India was] a place that we were looking to do deals and to invest in."
Trump also said that his father becoming president had hampered the company from doing other deals and that they didn't get enough credit for Donald Trump stepping away from the business.
"We have five incredible deals [in India] that are all active," Trump Jr. "We can do so many more [but] we're not doing those, but no one wants to talk about those kinds of deals. It's sort of a shame because we put these impositions on ourselves, but essentially got no credit for actually doing that and doing the right thing."
© Copyright IBTimes 2023. All rights reserved.