Trump's Iran Sanctions Resolve Faces Test From Oil-Thirsty China, India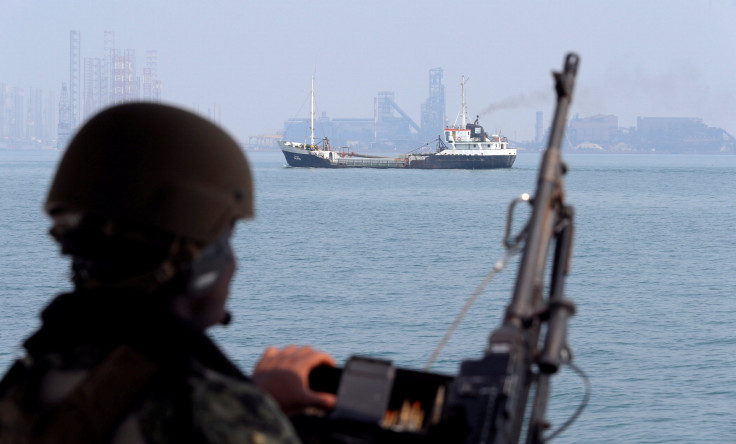 Shortly after U.S. President Donald Trump announced in May he would reimpose sanctions on Iran, the State Department began telling countries around the world the clock was ticking for them to cut oil purchases from the Islamic Republic to zero.
The strategy is meant to cripple Iran's oil-dependent economy and force Tehran to quash not only its nuclear ambitions, but this time, its ballistic missile program and its influence in Syria.
With just days to go before renewed sanctions take effect Nov. 5, the reality is setting in: three of Iran's top five customers – India, China, and Turkey - are resisting Washington's call to end purchases outright, arguing there are not sufficient supplies worldwide to replace them, according to sources familiar with the matter.
That pressure, along with worries of a damaging oil price spike, is putting the Trump administration's hard line to the test and raising the possibility of bilateral deals to allow some buying to continue, according to the sources.
The tension has split the administration into two camps, one led by National Security Adviser John Bolton, who wants the toughest possible approach, and another by State Department officials keen to balance sanctions against preventing an oil price spike that could damage the U.S. and its allies, according to a source briefed by administration officials on the matter.
The global price of oil peaked just below $87 a barrel this month, a four-year high. Because of that concern, the source said, the administration is considering limited waivers for some Iranian customers until Russia and Saudi Arabia add additional supply next year, while limiting what Tehran can do with the proceeds in the meantime.
Revenues from sales could be escrowed for use by Tehran exclusively for humanitarian purposes, the source, who asked not to be named, said – a mechanism more stringent than a similar one imposed on Iran oil purchases during the last round of sanctions under U.S. President Barack Obama.
"If you're the administration, you'd like to ensure you don't have a spike in the price. So, you are better off from mid-2019 onwards to aggressively enforce the barrels side of reducing to zero and in the interim aggressively enforcing the revenue side," the source said.
Such concessions could be problematic for the White House as it seeks stricter terms than under Obama, who along with European allies imposed sanctions that led to an agreement limiting Iran's nuclear weapons development.
The State Department declined comment for this story, but the administration has confirmed Washington is considering waivers. U.S. Treasury Secretary Steven Mnuchin told Reuters that countries will first have to reduce purchases of Iran's oil by more than the 20 percent level they did under the previous sanctions.
'A BIT UNPREDICTABLE'
U.S. Treasury and State Department teams have traveled to more than two dozen countries since Trump pulled out of the nuclear deal on May 8, warning companies and countries of the dangers of doing business with Iran.
U.S. allies Japan and South Korea have already ceased importing Iran's crude. But the situation is less clear among other, bigger buyers.
Brian Hook, the State Department's special representative for Iran, and Frank Fannon, State's top U.S. energy diplomat, most recently met with officials in India, Iran's No. 2 buyer, in mid-October after a U.S. source said for the first time that the administration was actively considering waivers.
An Indian government source said India told the U.S. delegation that rising energy costs caused by a weak rupee and high oil prices meant zeroing out Iranian purchases was impossible until at least March.
"We have told this to the United States, as well as during Brian Hook's visit," the source said. "We cannot end oil imports from Iran at a time when alternatives are costly."
A U.S. diplomat confirmed the discussions, saying limited waivers for India and other countries was possible.
India typically imports over 500,000 barrels per day (bpd) of Iranian oil, but has reduced that level in recent months, according to official data.
Discussions are also underway with Turkey, Iran's fourth biggest crude buyer, even though Turkish President Tayyip Erdogan and Turkish ministers have openly criticized the sanctions.
An industry source in Turkey familiar with the talks told Reuters the country had cut Iranian imports in half already, and could get to zero, but would prefer to continue some purchases.
Obama's administration granted a six-month waiver to Turkey, but the source said Turkey expected the Trump administration to impose tougher requirements for obtaining waivers that could potentially cover shorter periods.
"It could be for three months, or they may not get a waiver at all. It is all a bit unpredictable this time, as we understand a lot of things are up to Trump," the source said.
The situation is least clear in China, Iran's biggest customer, whose state-owned buyers are also seeking waivers. The country took in between 500,000 and 800,000 bpd from Iran in the past several months, a typical range.
Beijing's signals to its refiners have been mixed, said the two sources. Last week, Reuters reported Sinopec Group and China National Petroleum Corp (CNPC), the country's top state-owned refiners, have not placed orders for Iranian oil for November because of concerns about the sanctions.
Joe McMonigle, energy analyst at Hedgeye in Washington, said he expected the administration would have to accept some level of Iranian oil buying from China, given its consumption.
"Of all the countries, I don't think they think China is going to zero," he said.
U.S. State Department's Fannon is scheduled to travel to Asia in coming days, with a speech in Singapore planned for Oct. 30; an official did not say if Fannon would use the trip to discuss Iran with China.
(Reporting by Humeyra Pamuk and Timothy Gardner in Washington and Henning Gloystein in Singapore; additional reporting by Nidhi Verma in New Delhi, David Gaffen in New York, and Aizhu Chen in Beijing; Writing by Richard Valdmanis; Editing by David Gaffen and Marguerita Choy)
-Reuters
© Copyright Thomson Reuters 2023. All rights reserved.