Turkey Elections 2015 Update: Recep Erdogan Anti-Kurd Rally In France Draws Thousands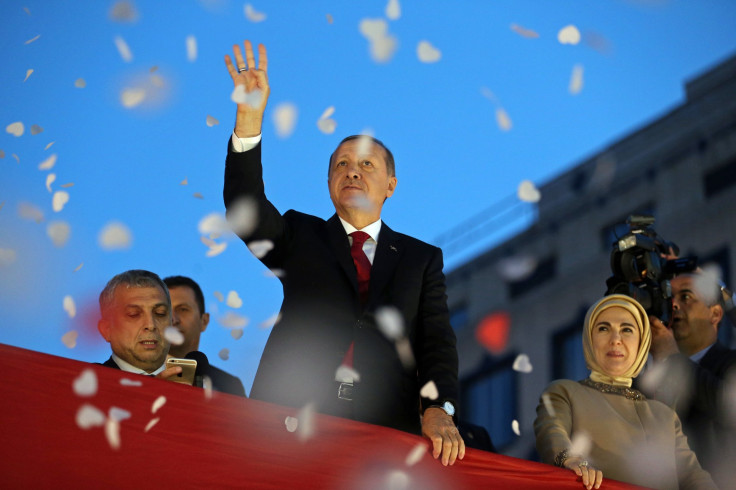 About 12,000 people from the Turkish diaspora in France, Germany, Belgium and Switzerland turned out to see Turkish President Recep Erdogan speak at what he called an "anti-terrorism" rally in Strasbourg, France, Agence France-Presse reported Sunday. Erdogan addressed the civil conflict with Kurdish insurgents in his country as he prepares to run for re-election in November.
The Turkish government has been fighting the Kurds, a large ethnic and cultural group in the region, since 1978. Some 25 million to 35 million Kurds live in the region encompassing southeast Turkey, northern Iraq, and parts of Syria, Iran and Armenia. The Kurds were promised a state as early as 1920 by the allied powers following their involvement in World War I though those promises never were fulfilled and practically were neutralized by the 1923 Treaty of Lausanne that set the boundaries of modern Turkey.
Even following multiple ceasefires, violence has continued between Kurdish guerilla forces and the Turkish army, escalating in the past several months. Ten suspected Kurdish militants were killed Freiday in the escalating fighting in the southeast region in Turkey, Reuters reported, while 44 others were detained.
Kurdish forces have repeatedly said they want autonomy from Turkey and are fighting for an independent state. The Turkish government has long referred to Kurdish rebels as terrorists, and during his address in Strasbourg Sunday, Erdogan called the Kurds "the people who threaten our country with arms and with bombs."
One leader from the Kurdistan Worker's Party, or PKK, the militant group that has led the fight, rejected the label "terrorist" in an interview with ABC News. "Those who call us terrorists should review the facts themselves. The Kurdish people have a just cause, to stop the colonization [by Turkey]," said Shahan, a fighter who was identified only by one name. "Nobody can stop our struggle," he added.
The escalating violence with the Kurds likely will continue throughout the next few months, with many in the region fearing the new government will not be able to ensure lasting stability in Turkey.
© Copyright IBTimes 2023. All rights reserved.