Turkey Formally Signs Deal To Open Incirlik Air Base To US-Led Coalition Fighting Islamic State Group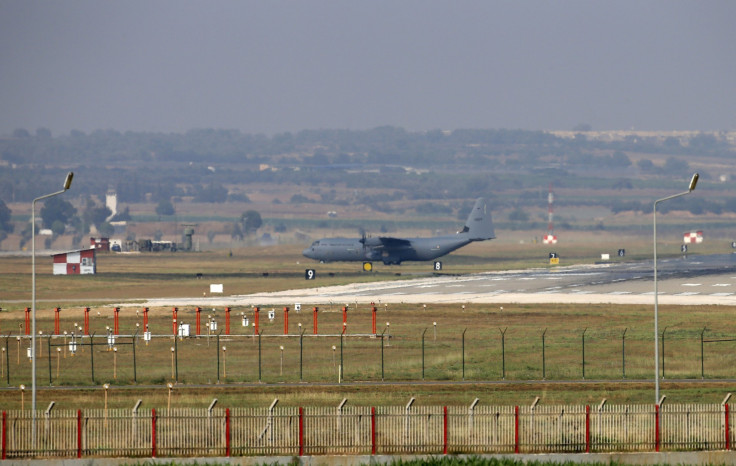 Turkey and the United States have signed a deal to open the former's Incirlik air base to the U.S.-led coalition fighting the Islamic State group, the Turkish foreign ministry said Wednesday, according to Reuters. Wednesday also marked the heaviest airstrikes by Turkey against the Kurdistan Workers Party (PKK) after President Tayyip Erdogan ruled out a peace process, Reuters reported.
The Incirlik deal will reportedly help intensify the fight against ISIS militants in their strongholds across the Turkey-Syria border. Turkey, which until recently was not directly involved in the U.S.-led coalition's fight against ISIS in Syria, launched several cross-border strikes against the Sunni-militant group after an ISIS suicide bomber killed 32 people in the Turkish city of Suruc.
Incirlik Air Base, in southern Turkey, is close to several ISIS strongholds, and the expansion of U.S. operations there would help cut response times for coalition aircraft and increase their efficiency, Navy Capt. Jeff Davis, a Pentagon spokesman, reportedly said Monday.
Also on Wednesday, Turkey launched its heaviest aerial offensive yet on PKK installations, Reuters reported. Turkey regards the PKK as its enemy despite the latter's affiliation to the Kurdish People's Protection Units (YPG), which have been relatively successful in driving back the forces of ISIS -- a common enemy. As a result, the Turkish government's offensive against the PKK could be seen as counterproductive in its fight against ISIS militants.
The YPG, the major Kurdish armed wing fighting ISIS in Syria, said Turkish tanks shelled a Kurdish-held village inside Syria on Sunday night, and YPG officials on Monday accused Turkey of fighting their forces rather than ISIS.
"Instead of targeting [ISIS] terrorists' occupied positions, Turkish forces attack our defenders' positions," the statement read. "This is not the right attitude. We urge Turkish leadership to halt this aggression and to follow international guidelines. We are telling the Turkish Army to stop shooting at our fighters and their positions."
© Copyright IBTimes 2023. All rights reserved.
FOLLOW MORE IBT NEWS ON THE BELOW CHANNELS