NATO Stands 'In Strong Solidarity' With Turkey In Fight Against Militants, Erdogan Vows No Step Back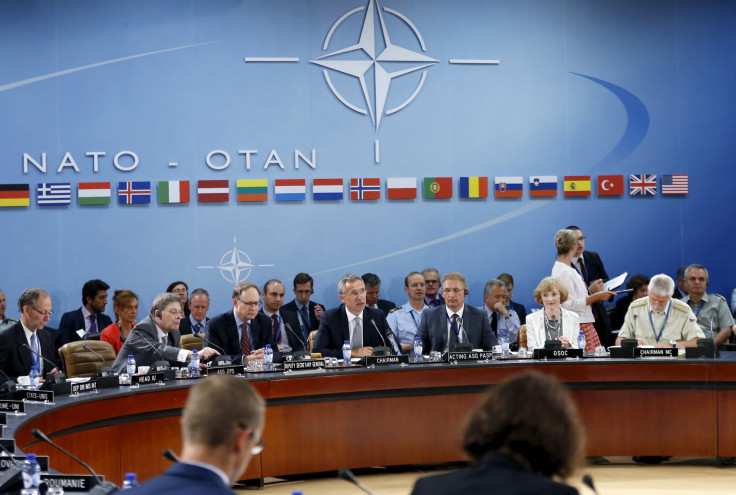 NATO announced on Tuesday that it will provide political support to Turkey in its fight against militants in Syria and Iraq, while the country's President Recep Tayyip Erdogan vowed that Turkey will not take a step back in fighting terrorism.
Turkey, which until recently was not directly involved in the U.S.-led coalition's fight against the Islamic State group in Syria, launched several cross-border strikes against ISIS militants and members of some Kurdish groups, after an ISIS suicide bomber killed 32 people in the Turkish city of Suruc. NATO's backing of Turkey follows ongoing consultations with 27 NATO allies in Brussels on Tuesday.
"We stand in strong solidarity with our ally Turkey," NATO Secretary General Jens Stoltenberg said, according to Reuters, before the meeting with alliance ambassadors, and called the meeting timely "to address instability on Turkey's doorstep and on NATO's border."
The ambassadors said, according to the Associated Press (AP), that they "strongly condemn the terrorist attacks against Turkey, and express our condolences to the Turkish government and the families" of the victims killed in such attacks.
Erdogan said the country had "come under attack," after last week's suicide bombing in Suruc, which lies on the border with Syria.
Article 5 of the NATO treaty requires allied countries to consider military action if an ally comes under attack, but Turkey has not yet invoked it, Reuters reported. The latest meeting was held under Article 4 of the treaty, which allows a member country to consult with other allies, if it feels that its security is being compromised.
"If a NATO member country comes under attack, NATO would support it in every way," Erdogan said, according to Reuters, adding: "At the moment, Turkey has come under attack and is exercising its right to defend itself and will exercise this right until the end... but what we're saying is that there could be a duty for NATO, and we ask NATO to be prepared for this."
The statement from NATO, released after the meeting, said, according to AP: "Terrorism poses a direct threat to the security of NATO countries and to international stability and prosperity," adding: ''It is a global threat that knows no border, nationality or religion, a challenge that the international community must fight and tackle together."
© Copyright IBTimes 2022. All rights reserved.
FOLLOW MORE IBT NEWS ON THE BELOW CHANNELS