Turkey Refugee Deal Reached: European Union Officials Announce Plan For Migrant Crisis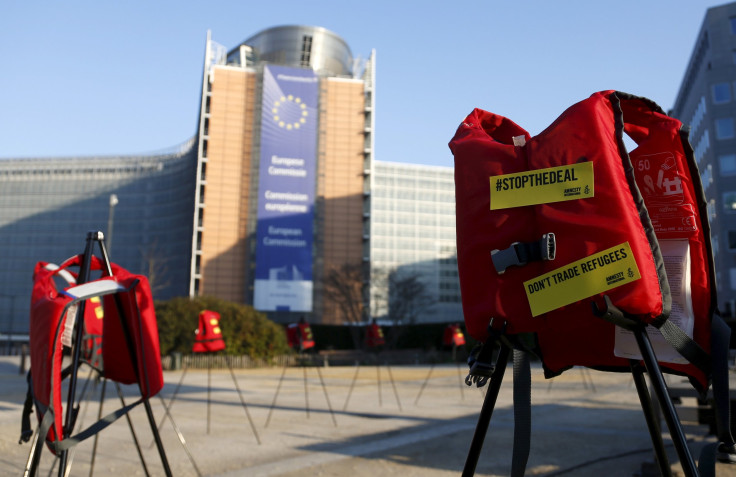 European Union leaders approved a migration deal with Turkey, Finland Prime Minister Juha Sipila said Friday on Twitter. "The Turkey deal was approved," Sipila said.
Full details about the plan to end the continent's historic refugee crisis were not immediately known, but the European Union's 28 national leaders have been discussing a detailed package of cash and incentives. Under the deal, refugees crossing the Aegean Sea by raft or boat — including many victims of Syria's five-year-old civil war — would be sent to Turkey. In exchange, European Union nations would take in a relatively small number of Syrians from Turkey.
"We need to put all our efforts into achieving an agreement with Turkey," Angela Merkel, Germany's chancellor, said during an early morning news conference. "These will be negotiations that will certainly be anything but easy."
Human rights groups have blasted the deal for effectively trapping refugees in Turkey, which has seen bouts of instability, human rights violations and violence. Human rights group Amnesty International protested outside the Brussels summit with a sign that read: "Don't trade refugees. Stop the deal." International law forbids the mass deportation of refugees.
Turkey's authoritarian President Recep Tayyip Erdoğan offered to welcome refugees and migrants in exchange for more aid, faster EU membership talks and quicker visa-free travel.
"At a time when Turkey is hosting 3 million migrants, those who are unable to find space for a handful of refugees, who in the middle of Europe keep these innocents in shameful conditions, must first to look at themselves," Erdoğan said in a nationally televised speech in Turkey.
EU leaders have said visa-free travel to Europe for Turkish citizens could be made available as soon as June. Turkey is also expected to receive an aid package of 6 billion euros ($6.68 billion) under the deal.
© Copyright IBTimes 2023. All rights reserved.