Turkey Unprepared To Deal With Huge Influx Of Syrian Refugees: NGO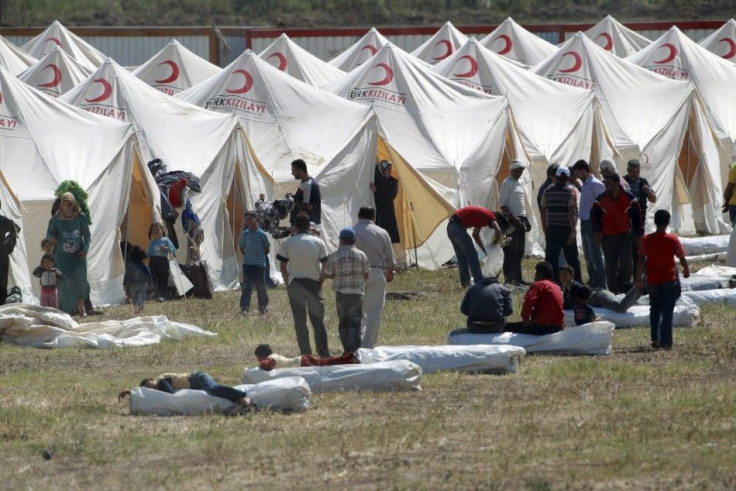 Official numbers from the U.N. Refugee Agency put Turkey's slice of the Syrian refugees pie at more than 324,000. The International Crisis Group thinks it's more around 450,000, and is taking the government in Ankara to task for not being properly prepared for the years-long financial slog that taking care of all these women, children and men will likely turn out to be.
In an article in Majalla, an English-language Arab affairs magazine, International Crisis Group's project director in Turkey, Hugh Pope, takes the Turkish government to task for misreporting refugee numbers for "not want[ing] to worry the two-thirds of the population that don't support the government's Syria policy." Further, despite the high numbers of refugees already in the country, Pope says there are 100,000 more still waiting to cross the border, and Turkey "only lets in a trickle, hoping their problems can be dealt with inside northern Syria."
Caring for refugees is expensive. Jordan and Lebanon each have an official registered refugee population of more than 450,000, and each have asked for nearly $500 and $270 million, respectively, from the international community to cover the costs of taking care of these people. Lebanon has reached 48 percent of its fundraising goal, according to data from UNHCR. Jordan has reached 31 percent.
For its part, Turkey has asked for $160 million in funds, and received 21 percent of that (about $33 million). Pope alleges that this is because Turkey hasn't opened itself up to international aid organizations that work with the refugees. "To access much of the international donor funds and aid already available, Turkey must open up more to international agencies and NGOs," he writes. "Extraordinarily, by April 2013, only three had been registered to work in Turkey."
In April, ReliefWeb, a human rights media source associated with the U.N. Office for the Coordination of Humanitarian Affairs, also questioned Turkey's readiness in dealing with the unflagging tide of Syrian refugees. One humanitarian worker in the Turkish Ministry of Foreign Affairs said that there isn't enough room to accept the 500 to 1,500 new refugees who arrive every day.
"We don't have accommodation capacity," he said. "How can we accept them all?"
ReliefWeb noted that Turkey's refugee camps were some of the nicest in the region, but without a solid plan to keep them sustainable, there's no telling where the refugees might end up being housed. ReliefWeb said that in one border town, a two-floor wedding hall is housing more than 700 people.
Pope wrote that Turkey needs to let in more NGOs and allow "cross-border aid," something that Human Rights Watch has also been calling for, but the government in Damascus has been blocking this. Cross-border aid would allow NGOs to bring humanitarian supplies into Syria from all borders.
© Copyright IBTimes 2023. All rights reserved.