Turkey's Erdogan Defends Iran's Pursuit of "Peaceful" Nuclear Program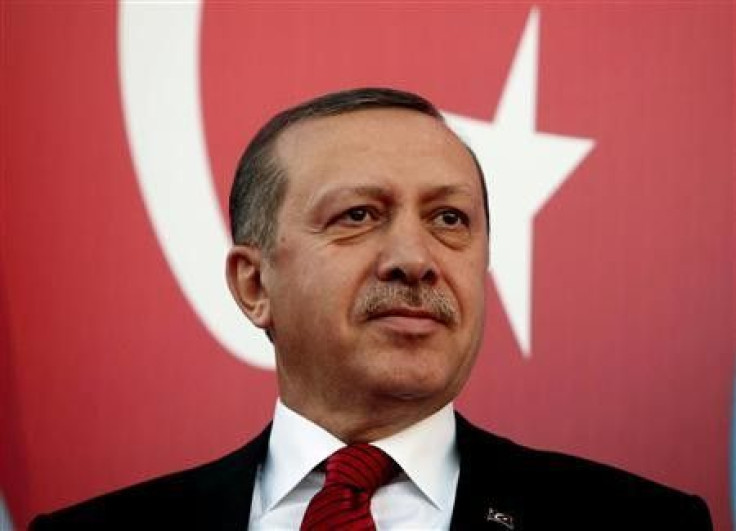 Turkey's Prime Minister Recep Tayyip Erdogan has defended Iran's pursuit of nuclear energy for peaceful purposes while on an official state visit to Tehran.
"No one has the right to impose anything on anyone with regards to nuclear energy, provided that it is for peaceful purposes," Erdo?an said at a Tehran news conference following talks with Iran's First Vice President Mohammad Reza Rahimi.
"Everyone with common sense opposes nuclear weapons."
Erdogan, who arrived in the Iranian capital directly from attending the nuclear security summit in Seoul, South Korea, also said he believed that western opposition to Iran's atomic program may be easing, ahead of anticipated talks between Iranian nuclear officials and the so-called P5+1 group (the five permanent members of the U.N. Security Council and Germany).
The last such talks ended in January 2011 with no progress made.
Turkey will apparently host the talks as part of its rising role as a mediator between Iran and the west.
Iranian Foreign Minister Ali Akbar Salehi told the IRNA news agency: "Istanbul has expressed its readiness to host these talks and it remains one of the probable options for the negotiations.
Erdogan spoke optimistically about the resumption of nuclear negotiations.
"We hope to make positive contributions to this process because we have been following this case most closely as a third country," he said.
Rahimi praised Turkey's role as a mediator as well as Erdogan's support of Iran's nuclear ambitions.
"It is known to everyone that Iran wants to use nuclear energy only for peaceful purposes," Rahimi told the Anatolia news service of Turkey.
"Our brothers in Turkey know about this better than anyone because we are neighboring countries. We are ready to offer our services to Turkey, other Muslim nations and all of humanity. … The West does not want us to make strides in the scientific field. It wants to keep the monopoly [on access to nuclear energy]."
In the wake of a report late last year by the International Atomic Energy Association suggesting that Iran seeks to build nuclear bombs (a charge Iran has repeatedly denied), the United States and the European Union have imposed draconian economic sanctions on Iran in a bid to pressure Tehran into giving up its nuclear program.
Moreover, Israel, which views a nuclear Iran as existential threat to the Jewish state, has threatened to launch military strikes to destroy Iranian nuclear facilities.
Today's Zaman, a Turkish daily, reported that Turkey is caught in the middle between Iran and the west. For one thing, Turkey has insisted on a diplomatic solution to the Iranian crisis in lieu of sanctions. However, the Turks have also agreed to the presence of NATO defense shied radar on its soil to monitor any Iranian missiles (a measure which has prompted howls of criticism in Iran).
Turkey and Iran also agreed to increase their trade relations -- the two nations want bilateral trade to jump to $35 billion in 2016 from the current $16 billion figure.
However, Syria remains an intractable problem between Iran and Turkey. While Erdogan (a former Assad ally) has called for the Syrian president to step down, Iran has remained close to its only Arab ally.
Turkey is now home to at least 17,000 Syrian refugees who have fled across the border and also hosts several Syrian opposition groups.
Erdogan is scheduled to meet with Iranian President Mahmoud Ahmadinjead later on Wednesday.
© Copyright IBTimes 2023. All rights reserved.