In Turkish Elections, Voters Turn To Kurdish Party To Hinder Erdogan's Plan For A 'New Turkey'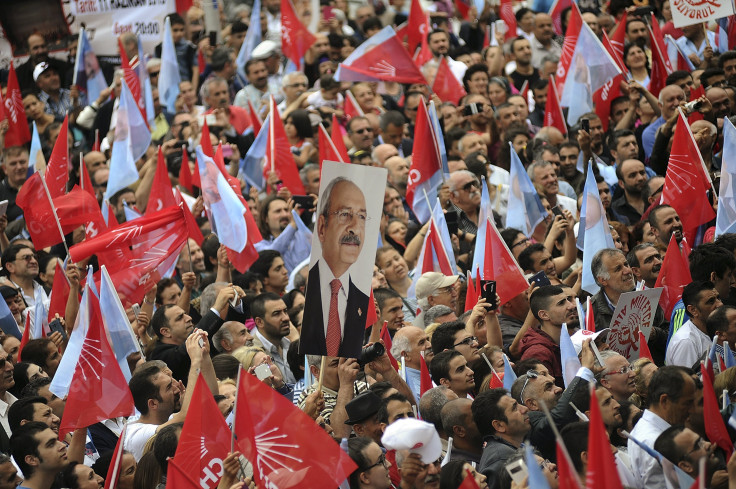 Turkish President Recep Tayyip Erdogan and his political party face one of the most serious challenges to their rule in years in Sunday's general election. Some Turks disagree with Erdogan's plan to reform the presidency, and instead are siding with the country's Kurdish political party, a group many have been taught to be weary of for much of their lives.
Though they are not expected to overthrow Erdogan's Justice and Development Party's (AKP) hold on the presidency, some Turks are voting for the Kurdish People's Democratic Party (HDP) just so they can make it into parliament. The HDP's decision to advocate for several minority groups may get them the votes to hinder Erdogan's plans for "sweeping executive powers."
"Over the past few years, the AKP has transformed itself from a pro-European Islamist party to a personality cult around Erdogan," columnist Asli Aydintasbas wrote in the Turkish Daily Milliyet. "He has made it no secret that he views the upcoming election as a prelude to the 'New Turkey' -- that is a major overhaul of the parliamentary system ... that would give him sweeping executive powers."
Turkey's Kurdish political nominees have decided to unite and run under the HDP in Sunday's election, instead of their usual strategy of running as independent candidates, giving them one of the strongest chances of making it into parliament. The HDP needs to get at least 10 percent of the seats in parliament to prevent the AKP from getting a majority. Erdogan and his party need 330 out of 550 for a majority, which would allow him to have a referendum vote on a new constitution.
"There is little media freedom. There is self-censorship, and those who criticize the government often get fired," Gonul Tol, director of Turkish studies at the Middle East Institute in Washington DC told the Council on Foreign Relations. "The AKP ran a liberal-democratic campaign when it first came to power in 2002. They carried out important democratic reforms. But after thirteen years they have turned increasingly authoritarian."
If the AKP is able to change the constitution, many fear the recent crackdowns will become commonplace in Turkey, making the Kurdish party an attractive alternative.
"This is the most serious I've seen people take voting, especially people my age. They're looking for a new voice and HDP seems to have filled that void," a 23-year-old recent graduate in Istanbul, who asked to remain anonymous ifor fear of government reprisals, told International Business Times. "I'm voting for HDP but not just to make sure Erdogan doesn't go to a referendum, because I actually like their ideas."
During this election the HDP has changed their platform to become far more inclusive of Turkey's religious and ethnic minorities and an advocate for the rights of the LGBT community and women. This has allowed them to expand their voter base from liberal Kurds, to include some liberal Turks as well.
Erdogan and the AKP began to lose favor with the public during violent police crackdowns on protesters in Gezi Park in 2013, which spawned nationwide demonstrations against the government. Dozens of journalists, activists and protesters have been arrested since then and many remain in jail. During this time, the HDP positioned "itself as the new bastion of anti-ADP sentiment among Turkish liberals and dissidents," Aydintasbas wrote.
Many of those so-called dissidents are Kurds. Though Kurds make up roughly 18 percent of Turkey's population, they have a bloody history with Turkish nationalists, and wounds from a conflict between the two sides that has claimed at least 40,000 lives are still fresh. In 1974, the Kurdistan Workers Party (PKK) was formed with the goal of creating an independent Kurdistan in southern Turkey. The movement turned violent a decade later and was placed on the U.S. designated terrorist list in 1977.
Erdogan was originally thought to be one of the most Kurdish-friendly presidents Turkey had seen in decades. In 2009, very fragile peace talks began between the president and the jailed PKK leader. But freedoms such as broadcasting and teaching in Kurdish remain banned in the country and the fact that Turks are taught a fierce nationalism at an early age, make for tense environment between the two groups.
"We're taught such a history where Turkey is the underdog in a movie that prevails in the end," the 23=year-old graduate said. "So we never even think that we might have been someone else's enemy. We're the good guys."
As polls began to show that the HDP may become a real threat to the AKP, Erdogan became even more conservative and changed his rhetoric on Kurds.
"Those who question the history of Kurds solely by looking at the last 30-40 years make a mistake," Erdogan said in March. "Marginal, atheist and nonbelieving movements disconnected to the values of these lands cannot recast our relations."
Though voting for the Kurdish party upsets the sensibilities of some Turkish nationalists, so does risking their democratic rights and basic freedoms.
"We're very proud people. You have to understand that nationalism is driven into us since the 1st grade," the Turkish graduate said, "But they want to change the whole democratic system which would mean Tayyip [Erdogan] having more power again and Turkey switching from a quasi-dictatorship into, in my opinion, a full dictatorship."
© Copyright IBTimes 2023. All rights reserved.