Twin Peaks Restaurant To Blame For Waco Biker Deaths? Texas Police, Franchise Blast Management For Gang Fight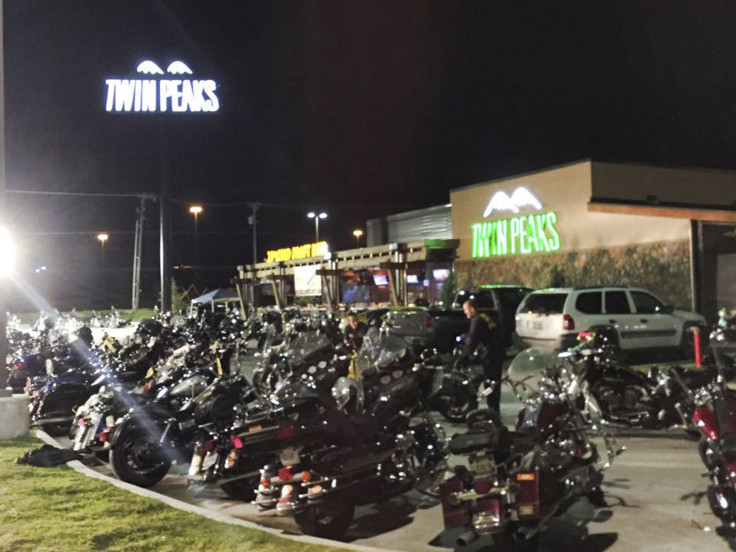 The Twin Peaks company revoked the franchise agreement for its Waco, Texas, restaurant Monday after the biker-gang shootout there Sunday that left nine dead. Waco investigators blamed the restaurant's management for ignoring the police department's advice to ban biker gangs.
The Twin Peaks restaurant chain also blamed the managers of the Waco franchise, noting they "chose to ignore the warnings and advice from both the police and our company, and did not uphold the high security standards we have in place to ensure everyone is safe at our restaurants." "We will not tolerate the actions of this relatively new franchisee and are revoking their franchise immediately," said the Dallas-based company.
Waco Police Sgt. W. Patrick Swanton said the restaurant management could have done more to prevent the fatal shooting involving rival gangs. Police had a marked SWAT truck standing by before the fight broke out because they had predicted trouble from the bikers. "They absolutely have a right to refuse service to people that may be a harm to their patrons and employees. They didn't do that, and today is the ultimate aftermath of what their decision was," Swanton said. "Apparently the management wanted them here, and so we didn't have any say on whether they could be here or not," he added.
Nearly 200 people have been charged with engaging in organized crime stemming from the Sunday fight involving at least five motorcycle gangs, reported CNN.
Jay Patel, operating partner of Twin Peaks Waco franchise, spoke out against the fatal biker fight in a statement: "We are horrified by the criminal, violent acts that occurred outside of our Waco restaurant today. We share in the community's trauma. Our priority is to provide a safe and enjoyable environment for our customers and employees, and we consider the police our partners in doing so. Our management team has had ongoing and positive communications with the police and we will continue to work with them as we all want to keep violent crime out of our businesses and community. We will continue to cooperate with the police as they investigate this terrible crime."
The Twin Peaks chain features sports bar-style restaurants, scantily clad waitresses and a log cabin décor.
© Copyright IBTimes 2023. All rights reserved.