Two Israeli Soldiers And One Spanish UN Peacekeeper Killed In Border Clashes With Hezbollah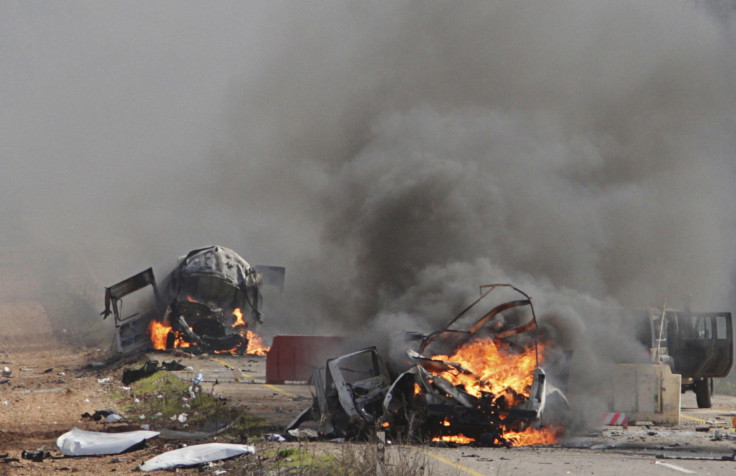 Two Israeli soldiers and one Spanish United Nations peacekeeper were killed after Hezbollah militants and Israeli forces traded fire across the Lebanese border on Wednesday. Hezbollah militants reportedly fired five anti-tank missiles at Israeli military vehicles in the disputed Shebaa Farms area, which is controlled by Israel, and also claimed by Lebanon and Syria.
Two Israeli personnel -- Sgt. Dor Chaim Nini, 20 and Capt. Yochai Kalangel, 25 -- were killed and seven were injured, according to the Israeli Defense Forces (IDF). The Spanish serviceman killed was Cpl. Francisco Javier Soria Toledo, who was serving with the U.N. Interim Force in Lebanon (UNIFIL), according to CNN. Hezbollah claimed responsibility for the attack, saying that it was carried out in retaliation for an Israeli air strike that killed six of its fighters and an Iranian general in the Golan Heights 10 days ago.
Israel responded to the attack with aerial and ground strikes on Hezbollah positions along the border, including firing artillery shells at Hezbollah positions in Lebanon, according to a BBC report, which cited IDF sources.
Israeli Prime Minister Benjamin Netanyahu blamed Iran, which backs the Hezbollah group, for the attack.
"For some time, Iran -- via Hezbollah -- has been trying to establish an additional terrorist front against us from the Golan Heights," said Netanyahu, according to Israel's Jerusalem Post newspaper. "We are taking strong and responsible action against this attempt," adding, "Those behind today's attack will pay the full price."
Netanyahu is facing parliamentary elections in the country on March 17.
Experts cited by the New York Times said that the attack may have represented an attempt by Hezbollah, a Shiite Muslim movement backed by Iran, to regain some of its lost popularity in the Sunni Muslim-majority Arab world, by refocusing itself on fighting Israel, after years of centering its efforts on assisting Bashar Assad's regime in Syria fight an insurgency in that country.
"To me, the whole thing was calibrated to say, 'You did your thing, we did our thing,' " one unnamed Western diplomat in the region told the Times. He added that a Hezbollah official had said that "they intended a limited operation and they do not want war or escalation."
However, the clashes raised just such a prospect, marking one of the most serious escalations in the contentious area since the month-long 2006 war between Israel and Hezbollah forces based in Lebanon, according to the Washington Post. With Hezbollah's involvement in Syria and the looming Israeli election, experts say that both sides have an added incentive to prevent the conflict from escalating into an all-out war.
"Netanyahu most likely realizes that a prolonged military engagement in Lebanon could cost him the election," Ayham Kamel and Riccardo Fabiani of the Eurasia Group, told Reuters. "Instead, Israel will pursue limited actions targeting Hezbollah in Lebanon, but the low-scale, tit-for-tat exchanges will not broaden into a wider war."
© Copyright IBTimes 2023. All rights reserved.