Two Mummies Found Inside Ancient Tomb In Peru, 'One Of The Most Important Finds' In Decades [PHOTOS]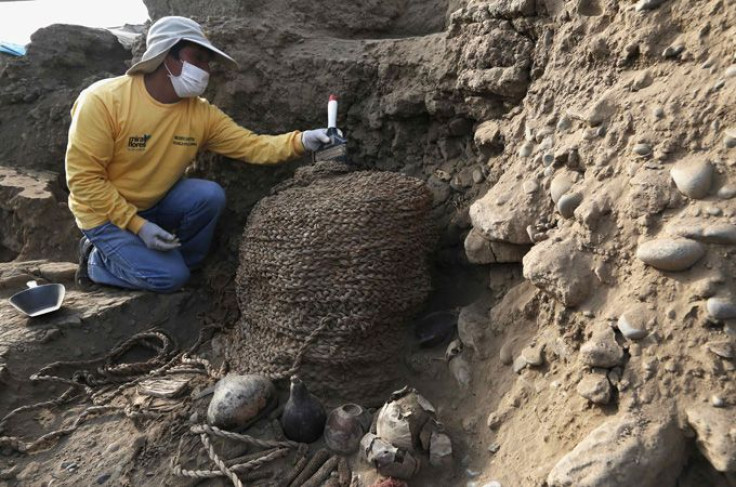 Archaeologists in Peru have uncovered a pre-Incan tomb that is more than 1,000 years old.
Found at Lima's Pucllana archaeological site, the tomb held bodies of an adult, an infant and nearly 10 preserved artifacts, including remains of guinea pigs, jars bearing feline designs and 12 fabric bags, Agence France-Presse reports.
"This is one of the most important finds in more than three decades of excavation, because both mummies are intact," researcher Gladys Paz told AFP.
Although the archaeological site has been under excavation since 1981, first signs of the tomb began to show earlier this week. The two mummies have remained unopened since being unearthed. They will be transported to a lab in the next four to six months.
"When we unwrap the bodies, we will be able to determine the adult's age, position in society and gender," Isabel Flores, an archaeologist at Pucllana, told Reuters. She speculates the adult was a master weaver and the child was killed as an offering in the adult's honor.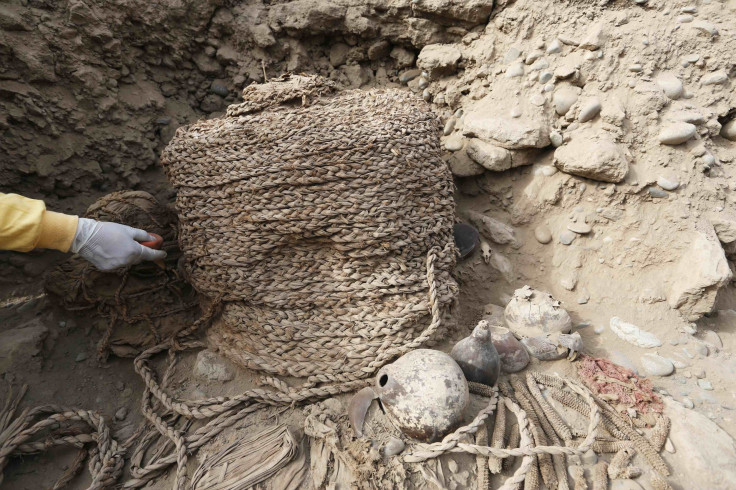 The adult and child most likely belong to the Wari culture, a civilization that flourished between 500 and 1000 in what is now Peru. Much of the Wari's ways has remained a mystery since they appear to have left no written record of their lives.
More than 70 tombs have been found in the Huaca Pucllana tomb, an ancient religious site located in a residential neighborhood in central Lima. The tomb, which overlooks Lima's skyline, is 66 feet high. Archaeologists have excavated just 40 percent of the pre-Columbian site.
In 2010, the remains of a woman and four children were found at the site. Two years earlier, archaeologists uncovered the remains of a teenage girl, according to the BBC. Yet Flores and Paz say the latest discovery is the most valuable since the mummies have remained intact.
In June, archaeologists uncovered a hidden Wari tomb at a separate site north of Lima. They spent months excavating in secret to avoid tipping off grave robbers.
"The Wari phenomenon can be compared to the empire of Alexander the Great," Krzysztof Makowski Hanula, an archaeologist at the Pontifical Catholic University of Peru, told National Geographic at the time. "It's a brief historical phenomenon, but with great consequence."
© Copyright IBTimes 2023. All rights reserved.