Two Police Officers Shot In Ferguson Amid Protests Outside Police Department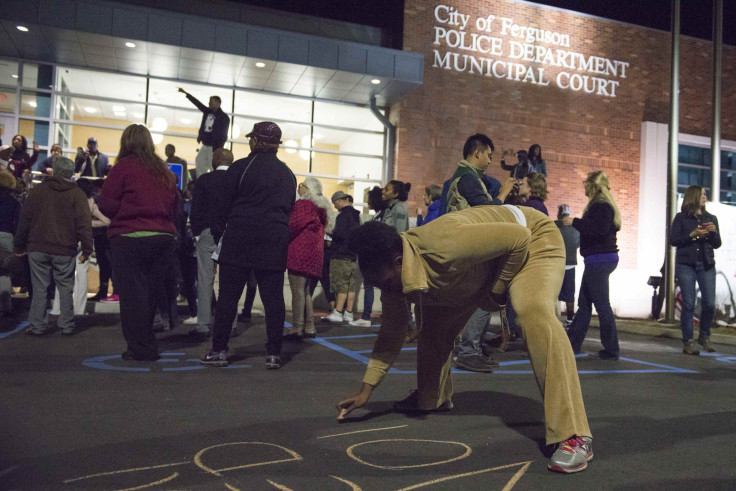 Update as of 7:30 a.m.: No suspects have been identified yet in the shooting of two police officers outside the police department building in Ferguson, Missouri, St. Louis County Police Chief Jon Belmar said, according to St. Louis Post Dispatch. However, the shots are believed to have been fired from across the street.
Belmar said, according to The Guardian, that the shots were fired "parallel with the ground," adding: "I would have to make an assumption that these shots were directed exactly at my police officers."
Both the officers, who have not yet been identified, reportedly faced "very serious gunshot injuries," although no updates were available on their condition.
"I saw the officer go down and the other police officers drew their guns while other officers dragged the injured officer away," Marciay Pitchford, a protester said, according to the Associated Press, adding: "All of a sudden everybody started running or dropping to the ground."
An officer from the Webster Groves police department, aged 32, who has worked with the department for five years was shot in the face, while a 41-year-old officer from St. Louis County who has been in the department for 17 years, was shot in the shoulder, reports said.
Update as of 3:09 a.m. EDT: St. Louis Police Chief Jon Belmar said, according to CNN, that the two police officers who were shot Thursday were targeted for being part of the force. Both officers, who were admitted to a hospital, are reportedly conscious.
"These police officers were standing there and they were shot, just because they were police officers," Belmar said, according to CNN, adding that the shooting occurred when the protesters were about to disperse for the day.
The Webster Grove officer was reportedly shot in the face while the St. Louis County officer was shot in the shoulder, according to The Guardian.
"I don't know who did the shooting to be honest with you right now, but somehow they were embedded in that group of folks," Belmar said, according to The Guardian.
Markus Loehrer, a witness to the incident said, according to CNN: "All of a sudden, I heard at least four or five shots ring out," adding: "It took me at least 30 seconds of watching before I realized there was an officer down. We are not there to shoot cops, we don't like violence. So we did what anybody would do -- we ran away."
Original story:
Two police officers were shot outside the police department in Ferguson, Missouri, after midnight on Thursday as officers attempted to control demonstrators gathered outside the building, St. Louis Post Dispatch reported. The demonstrators were celebrating Ferguson Police Chief Thomas Jackson's resignation, which was announced Wednesday, and were calling for Mayor James Knowles III to step down next.
About six shots were fired at the protest location, New York Daily News reported, citing social media feeds after 1:00 a.m. And according to a report from Reuters, a few dozen protesters shouted, "They hit a cop," and fled the location after the shots were fired around midnight.
Lt. Col. Al Eickhoff reportedly said that the officers are not thought to be from his department and added that the extent of their injuries was not yet known, St. Louis Post Dispatch reported. However, a police source told the newspaper that one of them is a St. Louis County officer while the other one is an officer from Webster Groves, a neighboring city in St. Louis County. More officers arrived at the site with high-powered rifles after the shootings, the report said.
The two police officers were taken to Barnes-Jewish Hospital and both officers -- one of whom was reportedly shot in the face -- are expected to survive, according to reports.
On Wednesday, demonstrations began hours after Jackson submitted his resignation and police officers outside the department were equipped with riot gear, according to New York Daily News, which added that no violence was reported. However, a few arrests were reported.
The U.S. Justice Department, in a report issued earlier this week, found widespread racial bias in Ferguson's law enforcement and court systems, prompting the beginning of a systemic overhaul.
© Copyright IBTimes 2022. All rights reserved.
FOLLOW MORE IBT NEWS ON THE BELOW CHANNELS