Two Thai Nationals Jailed For Insulting Royal Family In University Play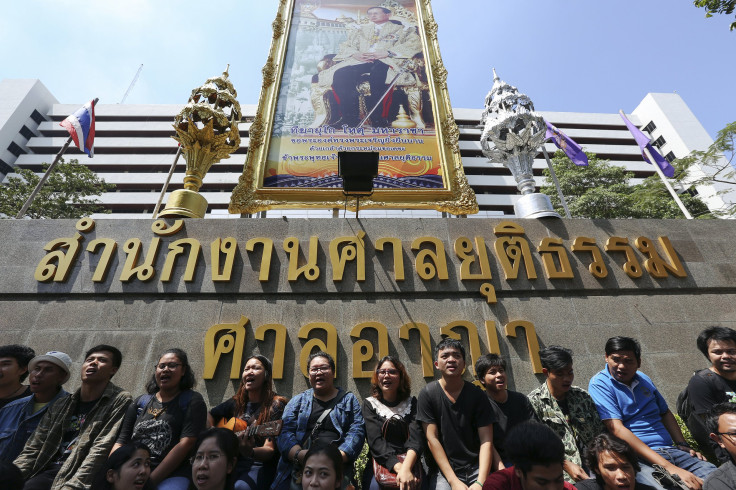 Two Thai nationals accused of insulting the monarchy in a university play were jailed on Monday, according to media reports. They were sentenced to two and a half years under the country's "lese majeste" laws, which protect members of Thailand's royal family from insult or threat.
Patiwat Saraiyem, a student, and Porntip Mankong, an activist, pleaded guilty to the charge after their arrest last August for staging "The Wolf Bride," a satire set in a fictional kingdom, at Bangkok's Thammasat University.
The play was performed in October 2013, to commemorate the 40th anniversary of pro-democracy protests of 1973. Their sentences were originally set at five years in prison each, but were reduced after they confessed, a judge at Ratchada Criminal Court in Bangkok told Agence France-Presse.
"The court considers their role in the play caused serious damage to the monarchy and sees no reason to suspend their sentences," he reportedly said.
Six other people are still wanted by police for the violation, of which two have fled Thailand. According to a report released by Amnesty International in December, following the coup in May 2014, the number of royal defamation cases in Thailand has seen an "unprecedented" rise.
The coup established a royalist junta after expelling the administration of Yingluck Shinawatra from power. Since coming to power, the ruling council partially has repealed the constitution, banned political gatherings of over five people, and imposed internet censorship measures aimed at stifling criticism of the government. Opposition "Red Shirt" activists have also accused the government of suppressing dissent.
"We are seeing a spiral into silence in Thailand -- ongoing, harsh restrictions that are stifling free speech and suffocating a once vibrant civil society," Richard Bennett, Amnesty International's Asia-Pacific Director, said, in a statement.
Thailand's King Bhumibol Adulyadej, widely revered in the country, is protected by the draconian anti-defamation laws, which carry a sentence of up to 15 years. The International Federation for Human Rights estimates that at least 40 people have been arrested since the coup for lese majeste violations, of which seven have been sentenced.
© Copyright IBTimes 2023. All rights reserved.