Two Years After Japan's Fukushima Meltdown, Developed Nations Still As Dependent As Ever On Nuclear Power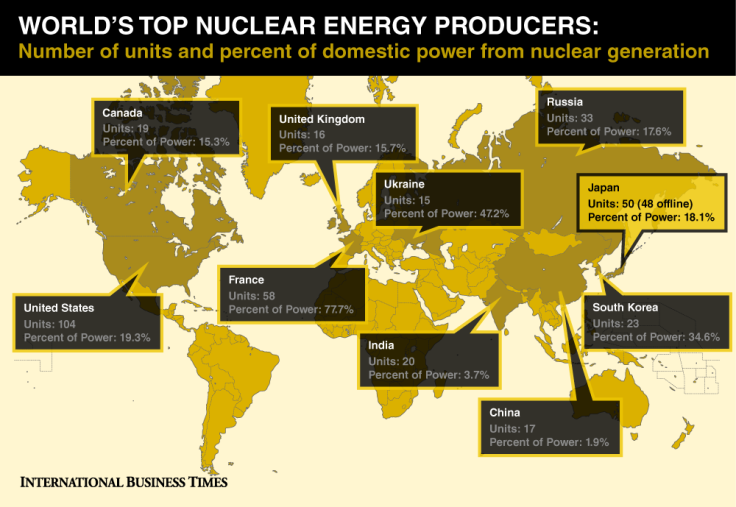 The March 2011 meltdowns at Japan's Fukushima nuclear power complex contaminated 700 square miles with radiation, bringing the nation to a standstill, panicking the Asia and Pacific region and forcing global leaders to reassess their commitment to nuclear power.
But two years after the worst nuclear disaster since the 1986 Chernobyl disaster, it appears that leaders of the world's developed countries remain as linked as ever to atomic power generation.
A March 7 European Commission memo on nuclear safety in Europe explains actions taken in response to Fukushima but gives no indication that its member countries will change direction. The commission oversaw stress tests and inspections through 2012, and although it found a need for significant improvements, it concluded that "levels of safety of nuclear power plants in Europe are generally high and no NPP should be shut down for safety reasons."
Germany has become Europe's main exception. In March 2011, Germany received 25 percent of its electricity from 17 nuclear reactors. Then after Fukushima, it shut down eight of them, despite having been one of the world's top nuclear producers for decades and fell out of the top 10, according to the World Nuclear Association. In January, German Environment Minister Peter Altmaier announced that his country would begin an aggressive push to phase out its nuclear power plants by the end of 2022 and opt instead for renewable solar and wind energy, despite criticism that such a move would cause electricity prices to rise drastically. The World Coal Association reports that coal presently supplies 41 percent of Germany's electricity, about a 5 percent increase since the accident in Japan.
Japan's greatest health concerns following the accidents were cancer risks and radiation sickness, yet a World Health Organization report concluded that for Japan's general population, "the predicted risks are low, and no observable increases in cancer rates above baseline rates are anticipated."
But the WHO also notes that people living in the areas adjacent to the affected parts of the Fukushima Prefecture are at a slightly higher risk of certain specific cancers such as leukemia for males and breast cancer and thyroid cancer for females.
After gaining momentum in 2011 Japan's anti-nuclear movement has slowed considerably and a pro-nuclear party has returned to office. Now Prime Minister Shinzo Abe's new government has reactivated two of Japan's 50 nuclear reactors after all were shut down after the Fukushima meltdown.
"Our ancestors have overcome many difficulties and each time emerged stronger," Abe told a memorial service in Tokyo. "We pledge anew to learn from them and move forward."
© Copyright IBTimes 2023. All rights reserved.