Typhoon Dujuan Makes Landfall In China After Killing 2, Injuring Over 300 In Taiwan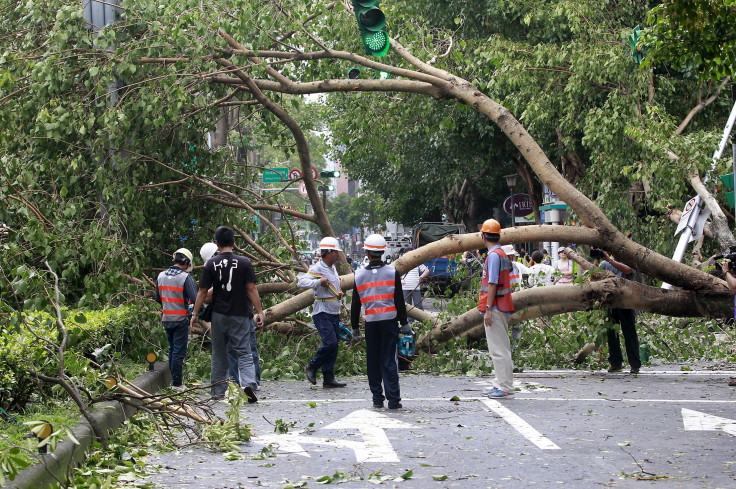 Typhoon Dujuan made landfall in eastern China Tuesday after killing two and injuring over 300 people in Taiwan the previous day. Chinese authorities on Monday evacuated 260,000 people in the eastern province of Zhejiang.
The typhoon struck China's southeastern Fujian province Tuesday morning, with maximum wind speeds of 119 kph (74 mph), before weakening into a tropical storm, the National Meteorological Center reportedly said. Dujuan, the 21st typhoon of this year, was expected to move northwestward at a speed of 20 kph and enter the neighboring Jiangxi province by Tuesday night, the center said on its website. There were no immediate reports of casualties or damage in the country.
On Monday, 32,000 fishing boats in Fujian's eastern coastal city of Putian returned to harbor and about 160,000 people went back to the safety of the shore, Xinhua News Agency reported. Schools were closed and over 200 trains in various parts of the province were suspended, the report added.
Taiwan battled the typhoon for three hours Monday night. The country's Central Emergency Operation Center said 324 people were injured, with most of them being involved in traffic accidents or hit by flying debris, Agence France-Presse (AFP) reported. Six mountain climbers were also reportedly missing. Over 12,000 people were evacuated in Taiwan and about 3,000 remained in temporary shelters, authorities told AFP.
Several domestic and international flights and trains across the island nation were suspended due to the typhoon. Officials said 710,000 households were without electricity and 370,000 others did not have water supply, the Associated Press reported.
Meanwhile, American rock band Bon Jovi canceled its performances in the Taiwanese capital Taipei Monday and Tuesday because of the storm.
© Copyright IBTimes 2023. All rights reserved.