Typhoon Phanfone Heading Out Of Tokyo Toward Pacific Ocean, Expected To Lose Power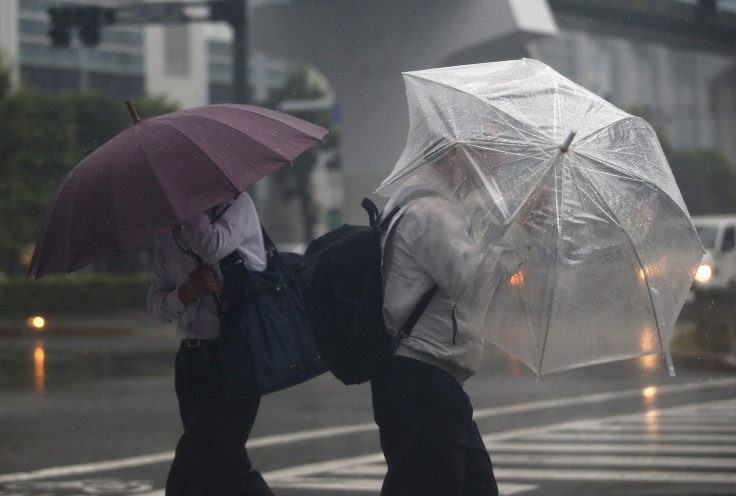 UPDATE 1:40 a.m. EDT: Typhoon Phanfone, which made landfall in Japan early on Monday, is now heading out to the Pacific Ocean, according to a BBC report. The typhoon, which briefly hit Tokyo, is expected to lose power in the next few hours, BBC reported, citing the storm-tracking website Tropical Storm Risk.
UPDATE 10:30 p.m. EDT: Typhoon Phanfone made landfall early Monday at Hamamatsu, Japan, as it took aim at Tokyo. Reuters reported hundreds of flights were canceled and Japan Times reported upwards of 667,000 people were urged to evacuate to safer ground in Shizuoka prefecture. The storm was moving northeast at nearly 28 mph.
Original post
Typhoon Phanfone took aim at Tokyo early Monday, local time, interrupting bullet train service and triggering evacuations as mudslides threatened, Kyodo news service reported. The 18th typhoon of the season, packing 90 mph winds, was off Mie Prefecture as of 6 a.m., moving toward Tokai and Kanto regions.
High waves from the storm swept three U.S. airmen off the northern coast of Okinawa. The body of one was recovered but two others remain missing. The storm also forced the suspension of efforts to recover the bodies of more of the 50 hikers killed in the eruption of Mount Ontake Sept. 27.
Hurricane Central reported Phanfone prompted authorities to urge 100,000 people to evacuate.
© Copyright IBTimes 2023. All rights reserved.