UC Berkeley 'Racist' Bake Sale Triggers Angry Protest and Active Dialogue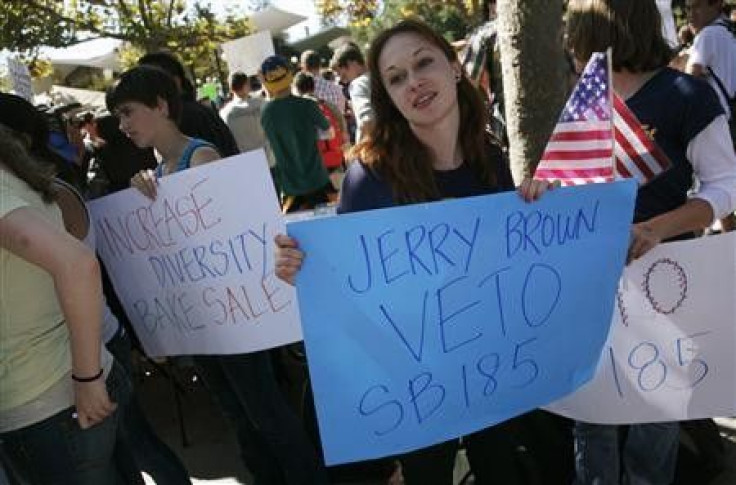 A racist bake sale held on UC Berkeley campus Tuesday was slammed by ethnic minority students as the Berkeley College Republicans satirically diversified the prices according to buyers' race, gender and ethnicity.
Cookies and cakes were priced at $2 for Caucasian students, $1.5 for Asian and Asian Americans, $1 for Latinos, $0.75 for African American students, and $0.25 for Native Americans. Women would get $0.25 discount from all the above.
While their sign featured the race-based prices, they told the buyers to pay whatever they wanted.
The Increase Diversity Bake Sale at UC Berkeley was designed to voice against legislation SB 185, which would allow public universities in California to consider race and gender in university admissions policy.
The bill challenges California's ban since 2006 on preferential treatment based on race, ethnicity or gender in public universities. Under Proposition 209, the universities could not use these factors in enrollment decisions. If SB185 is approved, these factors would be included as part of a number of different criteria, such as extracurricular activities.
As a satirical protest against affirmative action policies, The pricing structure is meant to be discriminatory, said Shawn Lewis, the group's president.
We're hoping it will encourage people to think more carefully about a policy that judges people differently based on the color of their skin.
A counter-protest was held by hundreds of students, who lay down in the middle of a campus plaza and called on Democratic Gov. Jerry Brown to sign the legislation.
Brown has until Oct. 9 to sign or veto the bill.
The bake sale triggered not only a wider discussion about racism and equality, but also a counter-protest by several hundred students, mostly African American or Latino.
Dressed in black, they lay down in the middle of Sproul Plaza shortly before noon on Tuesday to call on Brown to sign the legislature. The group of students stood up from their silent protest and chanted We have nothing to lose but chains and It is our duty to defend freedom.
Representing the counter-protesters, a group calling itself the Affirmation announced that its protest was not just in response to the bake sale, but to larger, systemic problems in the UC system, student Reuben Canedo said during a news conference.
Student government leaders unanimously approved a resolution condemning discrimination in satire or seriousness in response to the event, according to SF Gate.
Berkeley is the home of the free-speech movement. We want to be sure it doesn't become the capital of political correctness, said Lewis.
At UC Berkeley, the ratio of Latino, black and Native American students decreased from 20 to 16 percent after Prop. 209, while that of white students remained steady. Chinese American students, on the other hand, have increased from 19 to 20 percent, said SF Gate.
© Copyright IBTimes 2023. All rights reserved.
FOLLOW MORE IBT NEWS ON THE BELOW CHANNELS