UConn Beats Notre Dame To Win Third Straight Title; 10th Victory For Coach Geno Auriemma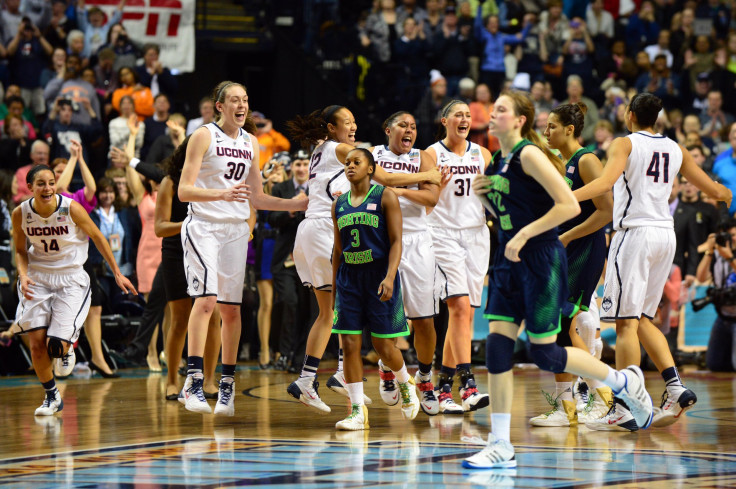 The top-ranked Connecticut Huskies prevailed in the NCAA women's basketball national championship on Tuesday night in Tampa, making it the tenth championship for head coach Geno Auriemma. The Huskies, who have won five of the last seven basketball titles, defeated Notre Dame, 65-53, for their third straight title.
Auriemma joins UCLA legend coaching legend John Wooden for the most titles in college basketball history. Auriemma is a perfect 10-for-10 in national championship games.
"Obviously it's a very significant number because that's the number that's been out there and people want to talk about it. I'll be the first to say I'm not John Wooden and I got a bunch of friends who'd tell you I'm right, I'm not," Auriemma said.
Forward Breanna Stewart was named the Final Four's most outstanding player. It is the third time she has won the award.
"There just hasn't been a player like Stewie in the women's game in a long, long time," Auriemma said. "She might be two inches taller than Cheryl Miller and Cheryl Miller was one of best players I saw. ... Stewie's the kind of player that women's basketball probably hasn't seen."
Stewart grabbed 15 rebounds and blocked four shots against the Fighting Irish. The two-time Naismith Trophy winner will enter her senior year with the opportunity to win a fourth national championship, and potentially add another player of the year award.
"I think it's really surreal and I haven't had a chance to even think about that. ... I've won three national championships, but said I wanted to win four, you can't win four without winning three first," Stewart said.
Notre Dame entered the game as an underdog, but remained in contention with 5:30 remaining. But the Huskies' Kaleena Mosqueda-Lewis knocked down a three-point shot and would score off a jumper on the next two possessions to help seal the victory for UConn.
Mosqueda-Lewis led all scorers with 15 points. Brianna Turner scored 14 points for Notre Dame. The Huskies shot 41 percent from the field, while the Irish shot 33.3 percent.
UConn and Notre Dame met in last year's national championship, with the Huskies finishing their undefeated season with a 79-58 win. The Huskies have won 84 of their last 85 games.
© Copyright IBTimes 2023. All rights reserved.