UFC 200: Frankie Edgar Talks Jose Aldo, Conor McGregor Ahead Of Title Fight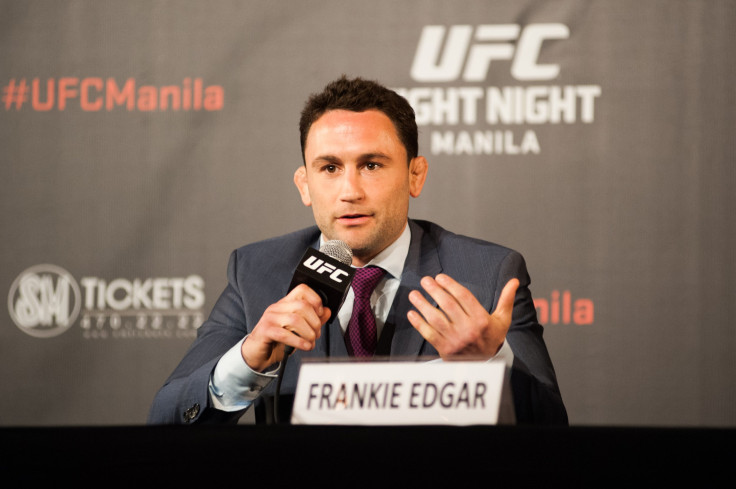 Nestled in a nondescript section of the coastal town of Toms River, New Jersey, rests one of the four locations of Elite Wrestling, a gym providing wrestling instruction for children and adults. To the casual observer, the club, which is attached to a pool supply store, seems more reserved for high school competitors than for a professional mixed martial artist headlining one of the biggest pay-per-view events of the year.
From a side entrance that's barely visible from the road on which it's located enters Frankie "The Answer" Edgar on a Monday afternoon. Along with Chicago White Sox slugger Todd Frazier, Edgar is Toms River's most celebrated active athlete, yet he walks in by himself and the gym is basically empty. While the overall scene may appear unassuming, the intense training that takes place inside has made him one of the world's best UFC fighters.
There will be a grander entrance for Edgar when he makes his way to the octagon at T-Mobile Arena in Las Vegas on July 9. Edgar is hoping to take one more step toward becoming the Ultimate Fighting Championship featherweight champion. Charismatic Irish star Conor McGregor is the current 145-pound titleholder and grabs most of the headlines, but it will be Edgar who will be fighting with millions watching around the world.
UFC 200 is expected to break records and potentially sell more than the reported 1.6 million buys that were generated for UFC 100 seven years ago. The light-heavyweight championship match between Daniel Cormier and Jon Jones will headline the show, and Brock Lesnar, arguably the biggest draw in UFC history, makes his return from WWE to step back inside the octagon.
But Edgar's fight might be most intriguing. He faces Brazilian Jose Aldo for the interim featherweight title, guaranteeing the winner a shot at McGregor's belt. But the 34-year-old is preparing for the upcoming fight as if the actual championship is on the line.
"Every fight is a title fight for me," Edgar told International Business Times between workouts. "Because if you lose one fight you just set yourself back on that title. I'm not getting any younger, and I've got good work behind me: five fights in a row over the top competition. One loss erases a lot of that."
It's been a three-and-a-half-year journey for Edgar in his hopes of winning the featherweight title and to become only the third UFC fighter to win belts in multiple weight classes. After holding the UFC lightweight title for 22 months, he made the move down to featherweight in February 2013 for a fight against then-champion Aldo. Edgar lost a close five-round decision, and it's taken five straight wins since then to secure another title fight.
McGregor defeated Aldo for the title in December, and Edgar's first-round knockout victory over Chad Mendes the night before was expected to set up a showdown between McGregor and Edgar. But McGregor has used his fame as the biggest name in the sport and one of the world's most popular athletes to pursue other fights.
McGregor was defeated by Nate Diaz in a 170-pound fight in March, and they'll have a rematch at welterweight at UFC 202 on Aug. 20. That means the current featherweight champ won't defend his belt, if at all, until late 2016.
"It's unfortunate," Edgar said. "I think [McGregor] should have to defend it. He got to go do what he wanted to do and go up a weight class, or do whatever. It didn't work out for him, and he should have to come back and defend it. But he calls the shots a little bit more than other guys, and I can't hate him for wanting to get revenge and all that stuff. But of course it's at my expense, so I'm looking at it a different way."
Edgar remains unsure of McGregor's plans to defend his featherweight championship. Should McGregor drop the belt altogether, the July 9 winner will become the actual titleholder. Either way, Edgar will be more than ready for his upcoming fight.
He hasn't fought in nearly seven months, but Edgar's training is intense. A 45-minute sparring session followed by another workout Monday is just another day in the week of a UFC fighter who's looking to establish himself as the best in the world in his weight class.
"I train two to three times a day. I get about typically 15, 16 workouts a week, and it consists of wrestling, boxing, muay thai, jiu-jitsu, sparring, strength and conditioning. We kind of do just a little bit of everything."
Since losing in their 2013 fight, Edgar has outperformed Aldo, who had been the only fighter to hold the UFC featherweight championship before he lost to McGregor late in 2015. Having defeated five of the world's top 145-pound fighters, Edgar disputes Aldo's claims that he hasn't made strides since they last met.
"He's just talking nonsense, to me," Edgar said. "I've won five straight, I've finished three. I think since we fought, he got knocked out in one, he's had some close decisions. And I think we've seen the evolution in my game more than his. But it's not about that; it's about one night and 25 minutes. So it's gonna be who's gonna be the best guy on that night."
Brimming with a champion's confidence, Edgar credits his training partners, who are among the best fighters in the world. He trains with Edson Barboza, UFC's No. 6-ranked lightweight, and Eddie Alvarez, who'll challenge Rafael dos Anjos for the UFC lightweight championship two days before UFC 200, among other fighters.
Most of the work happens at Elite Wrestling, and even though Edgar has previously faced Aldo, he doesn't plan to go back to study what happened three years ago. Edgar believes the work he's put in inside the octagon and in his local gym will finally dig him out of the hole that included back-to-back losses to Benson Henderson prior to the defeat to Aldo. He's aware of Aldo's quality leg kicks and his ability to avoid punches, but Edgar believes building up his speed, power, aggression and determination should do more for his chances than reliving what went wrong in the first fight.
"I'm not a big 'tape guy.' I've never been," Edgar said. "My coach, Mark Henry, is very obsessive. He'll force me to sit down and watch certain things — certain areas that we excelled in and certain areas that we need to improve on.
"But for the most part, I'm gonna go and do [my thing]. If I show up on July 9 I know I'll get my hand raised."
© Copyright IBTimes 2023. All rights reserved.