UFC Champion Jon Jones Suspected Of Hit-And-Run, Albuquerque Police Investigate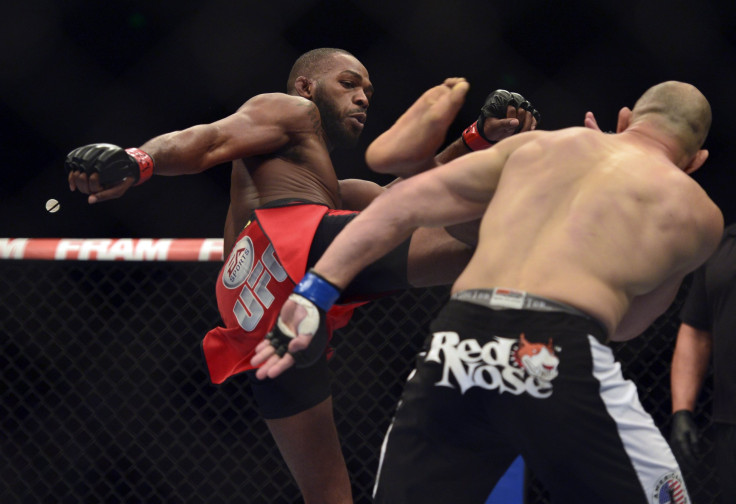 Ultimate Fighting Championship fighter Jon Jones is being sought by officials on suspicion of being involved in a hit-and-run case Sunday morning in Albuquerque, New Mexico, which led to a pregnant woman being hospitalized.
Jones, who holds the title in the UFC's light-heavyweight category, is wanted for questioning though no charges have been filed yet against him, the Associated Press (AP) reported, citing Simon Drobik, a spokesman for the Albuquerque Police Department. The car of the pregnant woman, reportedly in her 20s, was struck and she was taken to a hospital with non-life threatening injuries, the City of Albuquerque said, in a statement, on Sunday, adding that the driver of the car had fled the scene.
"The Albuquerque Police Department is actively seeking UFC Fighter Jon Jones for questioning in regards to his possible involvement in a hit-and-run accident, near the intersection of Juan Tabo and Southern, in Southeast Albuquerque early this morning, April 26, 2015," the statement said, adding: "The Albuquerque Police Department is asking Mr. Jones to please contact us as we continue to investigate."
Officials added that they had tried to contact Jones and his lawyer but had been unsuccessful. Some rumors also surfaced on social media that Sunday's crash involved drugs, however these could not be verified, TMZ reported.
Jones is the youngest fighter to win a UFC title -- at the age of 23 -- and also holds the record for the most consecutive title defenses in the light-heavyweight category, MMA Weekly reported. Jones is scheduled to fight Anthony Johnson at the MGM Grand Garden Arena in Las Vegas on May 23, according to the report, which added that the fight may now be in jeopardy.
In January, Jones was fined $25,000 for failing an out-of-competition drug test for cocaine, before his UFC 182 title fight, and reportedly apologized for the incident before signing up to a drug rehabilitation center, but only for one night.
"I'm not a cocaine addict by any means or not even a frequent user. I just made a really dumb decision and got caught with my pants down in this whole situation," Jones had said in an interview, cited by the Washington Times.
Last August, Jones was involved in a brawl with challenger Daniel Cormier during a news conference at a promotional event. The Nevada Athletic Commission fined him $50,000 and ordered him to community service after the incident, AP reported.
"We are aware that the Albuquerque Police Department is interested in speaking to Jon Jones regarding his possible involvement in a motor vehicle accident. We are in the process of gathering facts and will reserve further comment until more information is available," the UFC said in response to the hit-and-run allegation, according to MMA Weekly.
© Copyright IBTimes 2023. All rights reserved.