UFC: Miesha Tate Longs For 3rd Shot At Ronda Rousey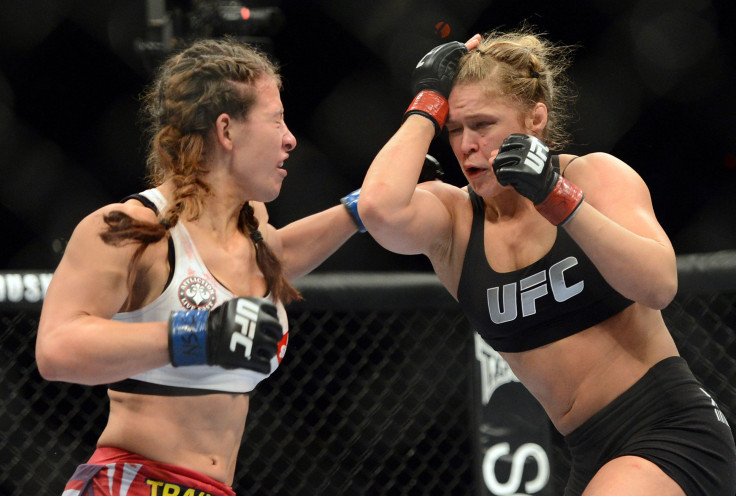 Miesha Tate, the top Ultimate Fighting Championship (UFC) women's bantamweight contender, already had two cracks at snatching away the coveted title from champion Ronda Rousey. The former Strikeforce champion is the only challenger to come close to unseating Rousey, surviving two competitive rounds before succumbing in the third round at UFC 168.
A new opportunity to redeem herself awaits Tate -- but first she must clear a hurdle in the form of formidable and experienced opponent Jessica Eye. The UFC has already sweetened the pot, promising the winner of the Tate-Eye fight on July 25 in Chicago a title shot against the winner of the Aug. 1 UFC 170 bout between Ronda Rousey and Bethe Correia in Rio de Janiero.
Tate, 28, is determined to not let anything thwart her plans to earn a third crack at the undefeated "Rowdy." "This is definitely an important fight. The next fight is always the most important, but this one is really the final step in the right direction before I get another fight with Ronda. I mean, it's a girl I've never fought before. She's up and coming, but she's good," Tate said during her appearance for the outfit's "UFC Fight Kit."
A third Rousey-Tate match, of course, hinges on both women defeating their most immediate challengers. Tate has a longstanding rivalry with Rousey, which even involved the former's current flame and fellow fighter Bryan Caraway in a nasty exhange of taunts. It is almost two years since Tate last fought Rousey, who since then has set records for fastest wins, transitioned successfully into movies and even went on to declare Correia her new most hated rival. But Tate continues to squueze herself into the conversation of best woman fighter and her next chance to cement that case is against the No. 5-ranked Eye.
Eye and Tate have been expressing mutual respect for each other since the fight was announced. Their contrast in styles will prove to be an interesting angle in the upcoming fight, given that Tate is known for her wrestling skills while Eye is primarily a striker. Nevertheless, both women only have one goal in mind: a shot at the title after emerging the victor on July 25.
© Copyright IBTimes 2023. All rights reserved.
FOLLOW MORE IBT NEWS ON THE BELOW CHANNELS