UFC: Ronda Rousey Now Hates Bethe Correia More Than Miesha Tate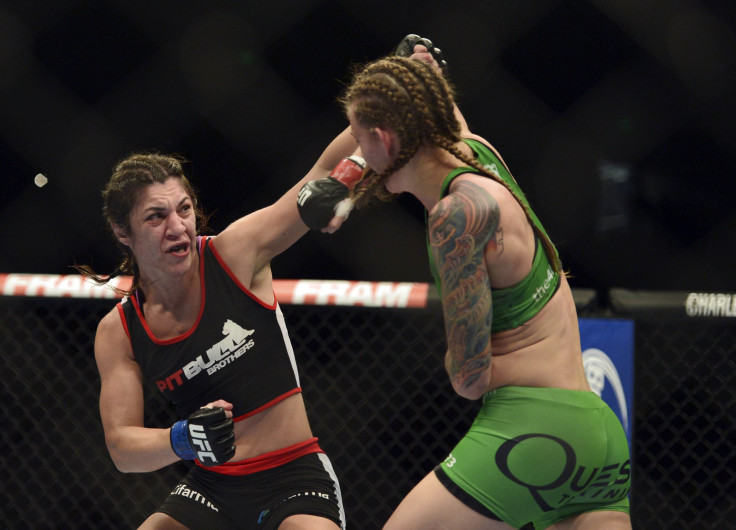 Ronda Rousey, the Ultimate Fighting Championship's current women's bantamweight champion, claims that her disgust for upcoming opponent Bethe Correia has gone through the roof -- and that the challenger will be lucky to land a handshake from her when the face one another at UFC 190 in Rio de Janiero on Aug. 1. The champion also hinted that the Brazilian fighter has now surpassed Rousey's longtime nemesis, Miesha Tate, on her "most hated" list.
"Bethe has succeeded in being disliked more than Miesha. That's quite a feat," Rousey quipped during an appearance at the "UFC Fight Kit" in New York City. Rousey, who was in attendance for the event organized to promote the latest sports apparel from Reebok, was in a jovial mood during the event and gamely discussed various topics, such as her journey to the apex of the UFC, the way she handles superstardom and how the Octagon provides a safe haven and solace.
The conversation went south when Correia's name came up. Rousey, 28, revealed that she is taking the Aug. 1 fight personally and has not gotten past the over-the-top taunts of Correia, specifically the suggestion of suicide when Rousey's own father died in such a manner. The top women's pound-for-pound fighter has said that she will purposely drag out the fight to inflict the maximum amount of pain to Correia.
"I never looked forward to beating up somebody more in my entire life and I'm not going to finish her off quickly," Rousey added. "This is the only time that I will say that I will purposely drag a fight out to punish someone."
The emotional approach to the fight has left observers wondering if the attitude adjustment will affect her game plan. Rousey made a career out of finishing off challengers quickly, even holding the fastest title defense in a record time of 14 seconds. "Rowdy" is aware of all these issues and countered that her focus is intact and that once she enters the ring, emotions are out the door and only observations and decisions prevail.
© Copyright IBTimes 2023. All rights reserved.
FOLLOW MORE IBT NEWS ON THE BELOW CHANNELS