UFC News: Brock Lesnar, Jon Jones Blasted By Mark Hunt Over PEDs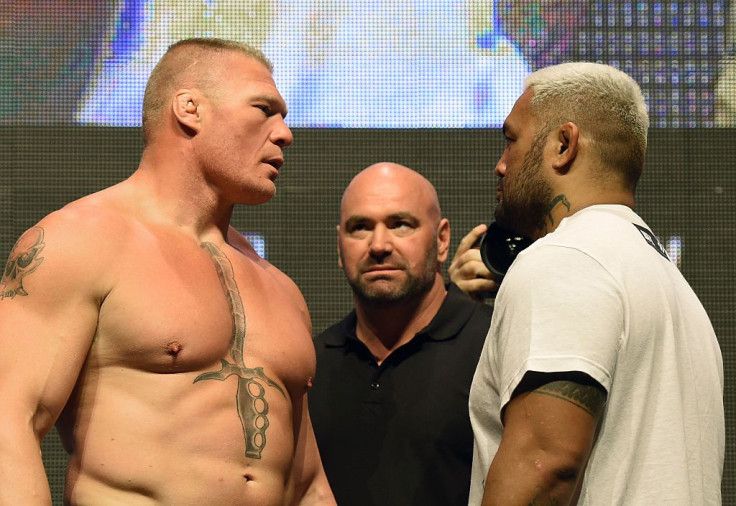 UFC heavyweight contender Mark Hunt (13-12-1) ripped into Brock Lesnar and Jon Jones for their past failed drug tests.
Hunt has been a staunch critic of fighters who use performance enhancing drugs and is currently in a lawsuit against the UFC, its president Dana White and Lesnar after it emerged that the latter, who Hunt faced at UFC 200 in a now-overturned defeat two years ago, failed multiple drug tests.
The 44-year-old is even more incensed now as Lesnar will be getting a shot at Daniel Cormier's heavyweight title next year, while another opponent he lost to in the past in Fabricio Werdum was recently suspended by the United States Anti-Doping Agency (USADA) for two years after failing a drug test.
Despite Lesnar failing a drug test in his last octagon appearance, the WWE star is getting an opportunity which Hunt is yet to receive, while Jones, currently in limbo after failing his second drug test last year, is likely to get a big fight whenever he returns.
But rather than being regarded as the greatest fighters, Hunt instead, believes they are the greatest cheaters.
"They're all weak. People talk about them being great fighters. They're weak," Hunt said, as quoted on MMA Nytt. "You get up and go to your job everyday, do you do steroids to do your job? No. So I just think they're weak people."
"People talk about Jon Jones and Brock Lesnar being the greatest fighters. No, they're just the greatest cheaters. Why do we give them respect? They don't deserve respect. They've cheated to get to the top. These guys are weak minded people. They take shortcuts to be here. We shouldn't allow this in our sport. This isn't my sport. This is our sport, all of us watching," he said.
Jones is regarded by many, including White, as the most talented fighter in UFC history and is viewed by certain sections of fans as the greatest fighter of all time.
Hunt, however, believes a failed drug test disqualifies Jones from the conversation as he pointed to other fighters who deserve the unofficial accolade.
"[Bellator's] Fedor [Emelianenko] has not been cheating. He's one of the greatest heavyweights," Hunt added. "'Mighty Mouse' [Demetrious Johnson], he's been the champion for a long, long time. Has he been caught cheating? No. There's so many guys who are champions that deserve that sort of accolade. Not these cheating, weak minded pricks."
Hunt has two fights left on his UFC contract and will take on Aleksei Oleinik at UFC Moscow on Saturday. A win against the Russian could set the "Super Samoan" up for a fight with a top five opponent in what could be his final fight under the promotion's banner.
"After this match, I said to [my manager] Zen [Ginnen] if I can get a match on the Adelaide card [in December] or anywhere or get another match as soon as possible if I'm not injured and then go from there," Hunt added, as per MMA Fighting. "I [would] get to fight the same card as Tai [Tuivasa] on the undercard also. It'd be great. It'd be a good send off. It would be me and Dan [Kelly's] retirement fight, which is great, you know, fighting at home."
"It would be my last fight with the UFC. So, it'd be great. I don't know about retiring per se. It'd be finishing from the big time. And, you know, I wanna fight three more times globally or four. We'll see what happens for the division and chasing [the belt]. That cut that dream off. So, you know, that's how it works, but who knows? Maybe [I'll] retire with Dan Kelly. It'd be fun." he added.
© Copyright IBTimes 2023. All rights reserved.