UFC Planned Mini-Tournament Featuring Conor McGregor, Georges St-Pierre, Khabib, Nate Diaz: Report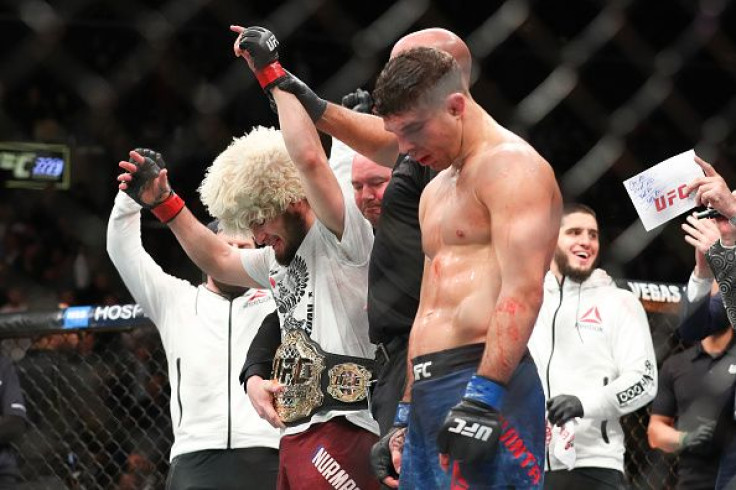 The Ultimate Fighting Championship (UFC) reportedly had plans for a lightweight mini-tournament but it failed to come to fruition.
According to MMA Fighting's Ariel Helwani, the plan was set in motion after Khabib Nurmagomedov won the lightweight title against Al Iaquinta at UFC 223 in April.
Nurmagomedov was to face Conor McGregor in the fall while Georges St-Pierre was to face Nate Diaz in August, with the winners of the two match-ups going on to fight each other for the lightweight title at the end of the year.
However, St-Pierre vs. Diaz, reported earlier to be something the UFC was interested in making, wasn't booked for a number of reasons, the main one being the former still not ready to compete after vacating his middleweight title last year due to a case of ulcerative colitis.
"I'm not ready to fight yet," St-Pierre told MMAFighting.com. "I need to wait until all the symptoms of my ulcer stop. It's much better than it was but it's not 100 percent yet. If I try to return for a training camp for a fight it will amplify and go back to what it was in the beginning. I need to get over this first for my own health and safety."
If the fight could have been made though along with the mini-tournament, it would have been a fresh and highly-lucrative move from the UFC featuring four of the biggest draws in the sport.
As for now, Nurmagomedov is still intent on fighting St-Pierre in a dream match-up. While he is also open to a fight with McGregor, the unbeaten Dagestan native's manager Ali Abdelaziz revealed they feel the former champion should work for a title shot after being inactive since November 2016.
"We believe the fight to make is the Georges St-Pierre fight at 155 pounds," Ali Abdelaziz stated. "Khabib wants to fight for legacy and not for a soap opera drama show, and we think Conor doesn't deserve this opportunity. The guy hasn't fought in almost two years. Why does he deserve to fight for the title? He should get his a-s back in the line and work his way up."
"There's only one reason Khabib wants to fight him: to make him pay for what he did [in Brooklyn]. For Khabib, it's not only about money. It's about disciplining him. That being said, UFC should be talking to Georges, not Conor."
While the UFC do have plans for a Nurmagomedov vs. McGregor showdown, it all hinges on the Irishman's court hearing scheduled for later this month in New York.
UFC president Dana White revealed last month he was planning on meeting McGregor in Las Vegas to discuss his future and feels a fight with "The Eagle" could very well be next for him should he return to the octagon.
"I'm pretty confident that that is the fight that Conor wants, and I'm pretty confident that that is the fight that Khabib wants," White said. "So, yeah, I could see that happening."
© Copyright IBTimes 2023. All rights reserved.