UFO Sighting Over Chile Volcano Eruption? Observers Spot Flashing Aircraft Near Calbuco Ash Column [VIDEO]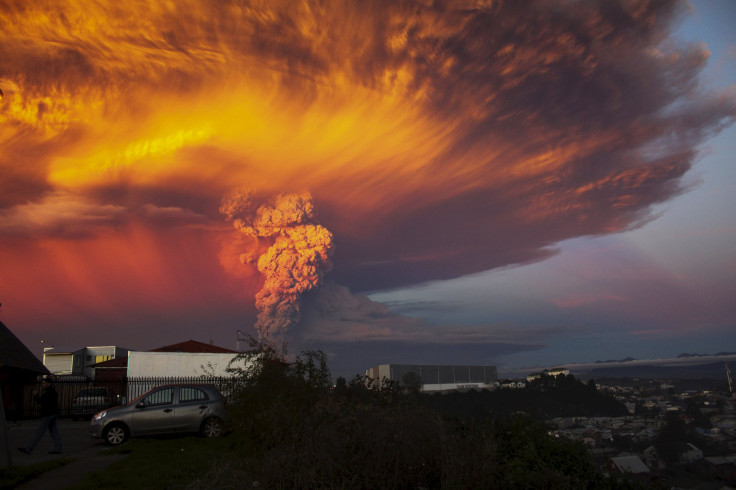 Some witnesses to the spectacular eruption of Chile's Calbuco volcano this week were quick to spot an unidentified flying object hovering near the massive column of gray ash rising from inside Earth. Video footage of the UFO sighting was uploaded to YouTube and shows a pair of mysterious white lights hovering midair before suddenly disappearing.
"What is striking, in my opinion, is that the object remained static, then vanished," YouTube user Ana Luisa Cid wrote in the video's description. "Some believe it may be a drone or a police helicopter."
It's unclear exactly what the object was. However, one UFO researcher said it was likely a drone aircraft, the Huffington Post reported. "It appears to be a Phantom 2 drone, based on the lighting pattern," Marc D'Antonio told the HuffPost. Phantom 2 drones have four propellers that allow them to hover in place. They are often used for recording videos or capturing photos from high above ground.
At least five different videos of the object appeared online following the eruption. D'Antonio said that based on the videos, it looked as if the object was a lot closer to the observers than initially thought. He said the drone was probably "launched in the town and brought up to altitude where it held station to observe the ash plume."
The Calbuco volcano erupted twice Wednesday, sending huge amounts of ash raining down on the surrounding towns and villages in the Los Lagos region near Chile's border with Argentina. Towns and villages were evacuated after the sudden and unexpected first eruption, the volcano's first in more than a half-century.
On Friday, the town of Ensenada, located in the foothills of the volcano, was covered in a thick layer of gray ash. Nearly all of the town's 1,500 residents had left the village before the second eruption, with about 30 people staying behind.
© Copyright IBTimes 2023. All rights reserved.