Uganda People's Defense Academic Scandal: Hundreds Of Soldiers Could Be Charged With Forging Documents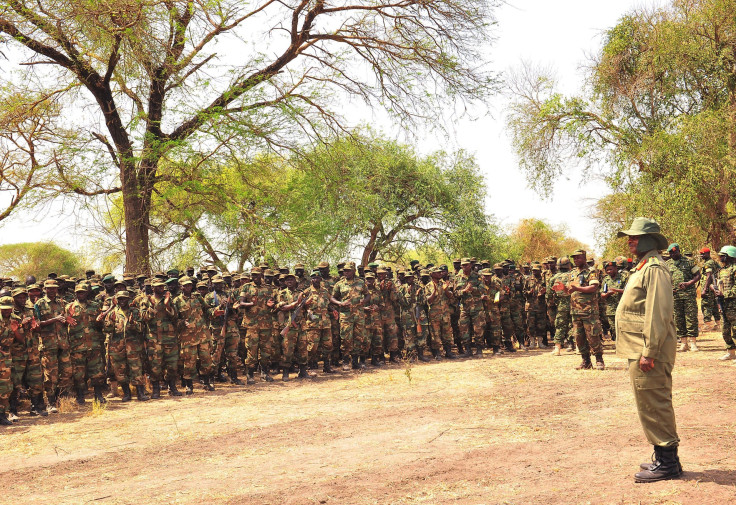 Hundreds of Uganda People's Defence Forces (UPDF) soldiers, including senior officers, forged their academic credentials in order to get recruited into the army, an internal investigation has revealed. As many as 1,500 soldiers could be charged with uttering of false documents once the probe is complete, a military source in Kampala told Ugandan newspaper Daily Monitor on Wednesday.
Ugandan law states a person found guilty of forging false documents could face up to two years in prison and dismissal from the army. About 1,500 soldiers is equivalent to two battalions or battle groups, which could leave the Ugandan army in a grave predicament if that many soldiers are indicted. The UPDF has thousands of troops stationed in South Sudan and Somalia.
Military spokesman Lt. Col. Paddy Ankunda confirmed the internal investigation but said the number of soldiers facing charges was "not alarming," according to Daily Monitor. "As an institution, we are doing an in-house verification in terms of academic credentials in order to professionalize our force. The process is still ongoing and the culprits could be charged with uttering false documents. They will definitely face the law," he told the Ugandan newspaper Wednesday.
Ugandans are eligible to enroll in the defense forces if they are between the ages of 18 and 25 and if they have completed basic military training as well as an officer cadet course, with the respective certificates and diplomas to prove it.
Ankunda said the military probe was launched last year in an effort to clean up the force. Army sources said those suspected of faking academic documents have been suspended from earning their pay. Ugandan President Yoweri Museveni has allegedly asked the UPDF not to dismiss them but army leadership is pushing to punish the offenders, Daily Monitor reported.
This is not the first time the Ugandan military has investigated its ranks for forged documents. In 2011, Museveni ordered a probe into the army recruitment of fake doctors who had feigned their medical qualifications after wounded soldiers in Somalia complained of haphazard treatment. In 2003, the commander-in-chief ordered a probe into the existence of ghost soldiers who were cashing in on the UPDF payroll, according to Ugandan newspaper the Observer.
© Copyright IBTimes 2022. All rights reserved.
FOLLOW MORE IBT NEWS ON THE BELOW CHANNELS