Uganda Presidential Election 2016: Museveni Spent $7M On Campaign In Two Months, Report Says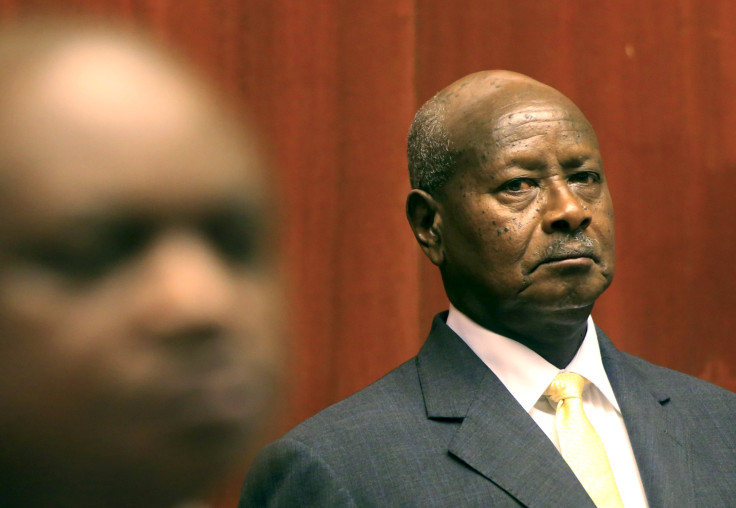 Ugandan President Yoweri Museveni has spent more than $7 million on his 2016 presidential election campaign in just two months. The 71-year-old incumbent, who is seeking a fifth term in office, has spent 12 times more money than his top two opponents combined, according to a report on campaign financing obtained by Ugandan newspaper Daily Monitor Thursday.
Former Ugandan Prime Minister Amama Mbabazi, who is also one of the front-runners in next month's polls, has spent the second-largest amount at about $951,000. Longtime opposition figure Kizza Besigye has spent about $279,000, according to the study, which was funded by the Democratic Governance Facility and conducted by the Alliance for Campaign Finance Monitoring in Uganda's capital of Kampala.
Museveni's long-ruling party, the National Resistance Movement, defended the amount it has spent on the presidential election campaign, saying it has held a number of special events and activities. "The party received money from the electoral commission. We also fundraise and get support from volunteers," Ofwono Opondo, deputy spokesman of the party, told Daily Monitor.
Ugandans are set to vote in the next presidential election Feb. 18. An opinion poll released this week showed Museveni maintaining a strong lead in the 2016 race. Some 51 percent of the 2,685 respondents said they would vote for Museveni, while 32 percent said they would elect his closest rival, Besigye. Some 12 percent said they would vote for Mbabazi, according to the poll, which had a margin of error of plus or minus 5 percentage points. Kampala-based research firm Research World International conducted the survey between Dec. 19 and Jan. 10 in partnership with NTV Uganda and Uganda Governance Monitoring platform, according to Daily Monitor.
Still, the upcoming election is looking to be the tightest yet as opposition grows against Museveni, who has ruled Uganda for nearly 30 years. Critics have repeatedly accused the president of embracing illegal methods to advance his electoral chances. Human rights groups said his security personnel employs illegal arrests, beatings and other forms of violence to bully opposition supporters. Most recently, presidential hopeful Mbabazi accused the longtime leader of using murder, torture and violence to curtail growing support for the opposition.
The Ugandan president fired Mbabazi from his premier position in 2014 amid a deepening power struggle. Ugandan police arrested Mbabazi along with Besigye, the second opposition candidate, and accused them of violating the East African country's electoral and public order management laws. The pair was released without charges 12 hours later, but their arrest sparked violent protests in the central town of Kasangatia.
© Copyright IBTimes 2022. All rights reserved.
FOLLOW MORE IBT NEWS ON THE BELOW CHANNELS