Uganda Presidential Election 2016: Is Museveni Murdering His Opposition To Guarantee His Victory?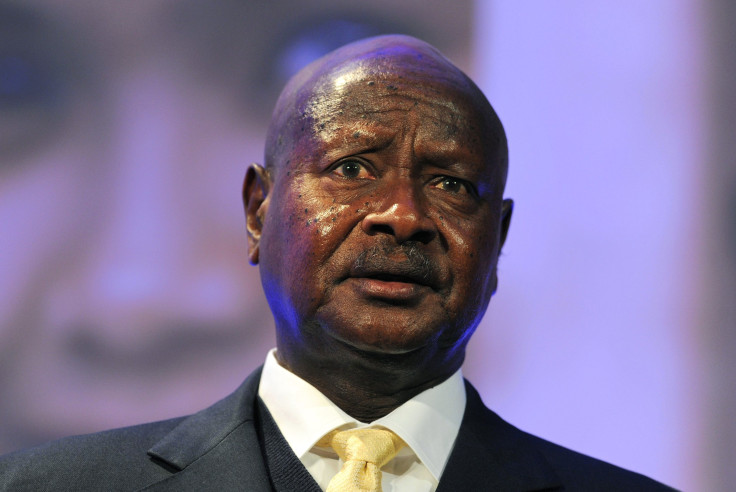 Uganda's former prime minister accused President Yoweri Museveni Thursday of using murder, torture and violence to curtail growing support for the opposition in the upcoming presidential election. Amama Mbabazi, who is also one of the front-runners in next month's polls, named nine of his supporters who have allegedly been either "assaulted, arrested, disappeared and even killed."
"As the pressure of the campaigns is mounting, so are the continual attempts to intimidate and subdue my support base," the former premier said in a statement released to the press on his official Facebook page.
Mbabazi said one of his supporters, "Ms. Tumwebaze," was murdered and her body dumped in a swamp, while the house of another supporter, "Mr. Okwii," was burned down with his 4-year-old child inside. The head of Mbabazi's security team, Christopher Aine, disappeared in mid-December after police accused him of leading a mob that assaulted supporters of Museveni earlier that month. Mbabazi's campaign told Reuters that Aine's family had identified a body shown on social media as his.
"These incidents are but a few examples of the violence this government is daily meting out on those who believe the time has come for Uganda to experience peaceful transition and a change of government," Mbabazi said in the statement. "These cruel acts tantamount to gross human rights abuse. We have documented them and will pursue redress through courts of law up to the highest level.
Ugandan police denied claims of involvement in attacks. "We're ready to investigate every alleged case of violence, but the people who allege don't cooperate with us," Fred Enanga, the police spokesman, told Reuters.
This is not the first time Museveni, 71, has been accused of using illegal methods to advance his electoral chances. Human rights groups have accused his security personnel of using illegal arrests, beatings and other forms of violence to bully opposition supporters.
Out of the eight presidential candidates, Mbabazi and longtime opposition figure Kizza Besigye have emerged as the top challengers to Museveni, who is seeking a fifth term in office. The 2016 race is looking to be the tightest yet. But Museveni, who has ruled Uganda for nearly 30 years, is still widely expected to be re-elected to another five-year term, even as opposition against him grows.
The Ugandan president sacked Mbabazi from his premier position in 2014 amid a deepening power struggle. Ugandan police arrested Mbabazi along with Kizza Besigye, the second opposition candidate, and accused them of violating the East African country's electoral and public order management laws. The pair was released without charges 12 hours later, but their arrest sparked violent protests in the central town of Kasangatia.
© Copyright IBTimes 2023. All rights reserved.
FOLLOW MORE IBT NEWS ON THE BELOW CHANNELS