UK Cannot Strip Returning Islamic State Fighters Of British Citizenship: Cameron And Clegg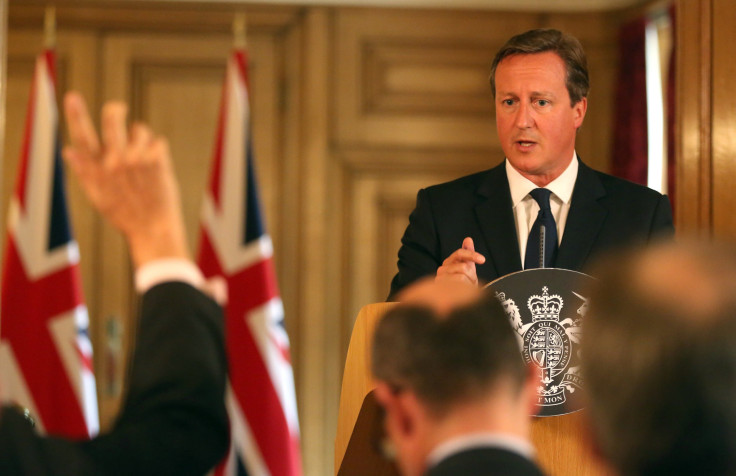 The UK, which is looking for ways to prevent the return of its citizens fighting Islamist wars in the Middle East, cannot confiscate their passports or revoke their citizenship as it would mean a breach of international law, Deputy Prime Minister Nick Clegg said Tuesday, according to the Guardian.
The British government is examining the possibility of keeping British jihadis, fighting wars alongside organizations like the Islamic State in Iraq and Syria, from returning to the country for fear they could pose a threat to national security. However, Prime Minister David Cameron, who raised the terrorist threat level in the country to 'severe' said on Monday that there were legal issues in implementing previously suggested plans, and instead introduced a set of new measures to deal with the re-entry of such citizens, the Guardian reported.
Clegg reportedly defended Cameron's anti-terrorism measures while speaking on BBC Radio 4's Today program, saying, that "taking people's passports away temporarily at the British borders if they want to leave, drafting legislation so that we can protect existing powers on passport confiscation under so-called royal prerogative … those are significant, specific and targeted measures which he announced yesterday to fill the gaps that clearly do exist.
"What the prime minister equally said is that we need to have a discussion and examine how we can and whether we can do more to stop people returning in the first place," he said, adding: "We're not going to do anything which clashes with both our international and domestic legal principles and obligations."
David Anderson, the UK's independent reviewer of terrorism, reportedly said there would be problems in giving police the powers to take away the passports of UK citizens and leaving them stateless.
On Friday, government sources had indicated they would try to make it easier to revoke the passports of jihadis returning to the country even as Boris Johnson, the mayor of London, repeated his call to strip British jihadis of their citizenship.
Addressing parliament on Monday, Cameron reportedly said that the UK needed "clear discretionary power to allow us to exclude British nationals from the UK." Under the new rules, proposed by Cameron, UK police can revoke a passport for up to 30 days, but this will be subject to judicial review.
While Cameron admitted there were legal difficulties in preventing jihadis from returning to the country, he added that measures to prevent their return were necessary.
Addressing members of parliament, Cameron reportedly said: "It is abhorrent that people who declare their allegiance elsewhere can return to the United Kingdom and pose a threat to our national security. We are clear in principle that what we need is a targeted, discretionary power to allow us to exclude British nationals from the UK."
Dominic Grieve, a former attorney general, had previous warned the government that taking away the passports of UK citizens returning to the country would break international as well as UK common law, the Guardian reported. "Even taking such powers on a temporary basis is likely to be a non-starter," Grieve reportedly said, and suggested the best course of action was to prosecute returning jihadis in UK courts.
There are as many as 500 UK citizens engaged in fighting for the Islamic State in Syria or northern Iraq, and their return would represent the single greatest threat to the country, Cameron reportedly told parliament. He had also refused to commit to the UK's involvement in the conflict in Iraq and Syria, saying there was no request from Washington for the same, after the U.S. launched air strikes against Islamic State targets.
However, he reportedly said: "We should ask ourselves how we best help those people on the ground who are doing vital work in countering [Islamic State]," and added that in Libya "the British government must reserve the right to act immediately and inform the House of Commons afterwards," the Guardian reported.
© Copyright IBTimes 2023. All rights reserved.