UK CEO at Center of News Corp Hacking Scandal Resigns: Brooks had Murdoch Loyalty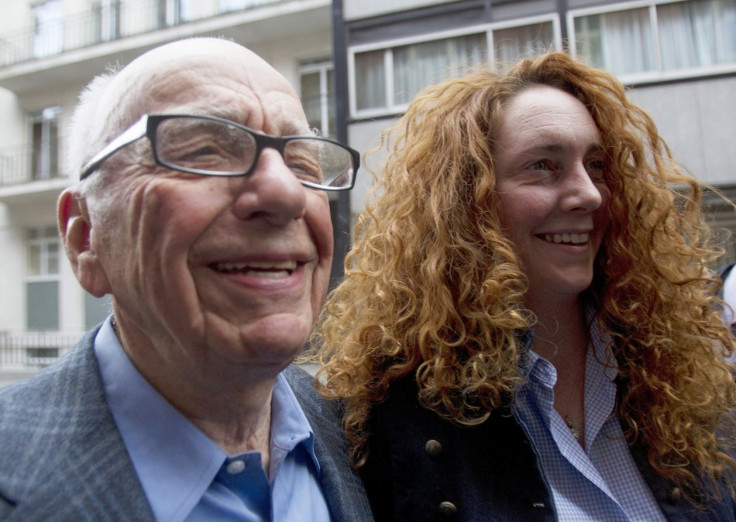 Rebekeh Brooks, CEO of News International, has finally stepped down amid pressure over the dramatic phone-hacking controversy at News of the World, a British publication owned by Rupert Murdoch's News Corp.
Brooks said she no longer wanted to be a focal point of the debate surrounding the fate of News Corp.
In a statement to News International staff, she said; As chief executive of the company, I feel a deep sense of responsibility for the people we have hurt and I want to reiterate how sorry I am for what we now know to have taken place.
The statement contains a subtle reminder that her resignation was not instigated by Rupert Murdoch - on the contrary, both Murdoch father and son have stood by Brooks even while previous allies have distanced themselves from her, and despite the fact that the hacking incident cost News Corp. its bid for British Sky Broadcasting Group:
My desire to remain on the bridge has made me a focal point of the debate. This is now detracting attention from all our honest endeavours to fix the problems of the past. Therefore I have given Rupert and James Murdoch my resignation. While it has been a subject of discussion, this time my resignation has been accepted.
Brooks added that she will be leaving with the happiest memories and an abundance of friends.
Brooks until today was the chief executive of News International, and was the editor of News of the World when many of the alleged hacking incidents took place.
Brooks has long insisted she had no knowledge of any phone hacking incidents at Murdoch properties. But the case of reporters hacking into the cell phone of missing girl Milly Dowler took place in 2002, when Brooks was editor of News of the World, and five years before a News of the World reporter and a hired investigator were found guilty of hacking into royal family phones - which was believed to be the first case of illegal interception on the part of the tabloid.
Brooks maintains that she had no knowledge of or participation in News of The World's hacking into Dowler's phone, or incidents of police bribery that were later uncovered. The investigation has raised allegations that News of the World reporters and freelance investigators hacked into the phones of multiple celebrities and private citizens alike - including the families of victims of the 7/7 subway attacks, and families of soldiers killed in the Middle East.
Before the Milly Dowler case came to light, News of the World has previously been found liable for invading the privacy of its story subjects. The company has admitted to hacking into the phones of eight public figures, including Sienna Miller. Earlier this year, the tabolid settled with Miller for £100,000 (about $165,000 USD) in a privacy and harassment claim over allegations that reporters of Murdoch's News Corporation illegally listened to voice messages to scoop stories.
But further probing revealed that the journalistic misconduct did not end there.
A Guardian report on Rebekah Brooks' resignation argues that the impetus for her departure may have been a Newsnight interview with Saudi prince Alwaleed bin Talal al-Saud, who is News Corp,'s second largest shareholder. In Thursday night's interview on the BBC program, al-Saud said that for sure she has to go, you bet she has to go if there was any explicit evidence of her involvement in the illegal hacking.
In an interview with the News Corporation-owned Wall Street Journal Thursday, Rupert Murdoch said that the company had handled the crisis extremely well in every way possible, making just minor mistakes.
Rupert Murdoch, his son James Murdoch - who is deputy chief operating officer of News Corp. - and Brooks were set to be questioned in a parliamentary hearing next week. The Wall Street Journal reports that Brooks will still testify depite her resignation.
Last week, News of the World was shut down over the hacking and bribery accusations, after 168 years in print.
Andy Coulson, who succeeded Brooks as editor of News of the World was arrested last week on suspicion of phone hacking and corrupt payments [bribery].
Brooks will be replaced by Tom Mockridge, chief executive of Sky Italia.
© Copyright IBTimes 2023. All rights reserved.