UK Pushes To Fly Migrants To Rwanda, A Country Which US Says Has 'Significant Human Rights Issues'
KEY POINTS
US Department of State released its annual Country Reports on Human Rights Practices
The report says Rwanda has unlawful or arbitrary killings among other human rights issues
This assessment comes as UK officials work to fly asylum seekers to Rwanda before the summer
Opponents say that the ingrained racism is on display with UK's new migration scheme
Human rights activists and advocates are callings out the collective West, especially the UK and the United States, over what they allege is racial bias in the treatment of refugees that come to these countries, fleeing persecution, violence and hunger in their home lands.
They especially point to the stark contrast in how millions of white Ukrainiain refugees were welcomed with open arms by the U.S. and Europe, while at the same time erecting legal and physical barriers for entry for people of color from across the world.
The UK, one of the closest allies of the States, has been facing massive criticism from advocacy groups for its migration scheme that would deport asylum seekers arriving illegally to the country. These asylum seekers will be sent over 4,000 miles away to Rwanda, where they may be granted refugee status, or they can apply to settle there on other grounds.
British interior minister Suella Braverman visited Rwanda in March for further discussions on the $146 million (120 million pounds) deal and said they could start deporting asylum seekers to the east African country very soon.
Opponents of the policy believe that refugees, who fled areas of war and persecution, will be subjected to more mistreatment under the new migration scheme. In addition to the human rights concerns, many argue that the scheme also exposes the racism in policies made by Western lawmakers.
"We have found the UK government's approach to people fleeing countries in Africa, the Middle East and the Global South in comparison to its treatment of White Ukrainians has exposed the racism ingrained in the country's asylum and immigration systems," Fizza Qureshi, CEO of the UK-based charity, Migrants' Rights Network, told International Business Times.
"We believe it's important to acknowledge the role racism plays in immigration systems, and it can be demonstrated by the lack of safe routes for People of Colour and those from Muslim countries. It raises questions about who is welcome in the UK and who is considered to be worthy of protection," Qureshi added.
When British officials speak in favor of the migration scheme, they maintain that the new policy would deter refugees from entering the UK illegally or through dangerous means such as traveling on small boats to cross the English Channel. However, the number of people arriving on small boats has not dropped since the policy was first announced in April last year. Moreover, the year 2022 also saw the highest on-record figure of over 45,700 people entering the UK by way of small boats, according to BBC.
"The Rwanda deal will not deter people who are trying to reach safety. Instead, it will force refugees to abandon the system and go underground, leaving them vulnerable to exploitation or trafficking," Qureshi said.
Data shows that most of the asylum seekers arriving in the UK via small boats are people from Syria, Afghanistan, Iraq, Albania and Iran. Advocacy groups say that there are very few routes to these refugees to seek asylum in Britain.
"Refugees in our network who have fled countries like Sudan, Afghanistan or Syria have been forced to come to the UK via irregular routes because no alternative is available to them," Qureshi said. "Rather than be offered protection, they have been criminalised by increasingly hostile government legislation and threatened with deportation to countries like Rwanda. This has heightened stress and fears about what their future holds."
Many also argue that the manner in which Western policymakers treat refugees from the Middle East, Africa and other regions is a stark contrast to the way people from war-torn Ukraine were treated in 2022.
"The EU has accepted approximately 8 million Ukrainian refugees, without any documentation requirements," Karen Musalo, Professor and Chair in International Law, Director of the Center for Gender and Refugee Studies, UC College of the Law, told IBT.
"The European Council activated for the first time its 2001 Temporary Protection Directive giving Ukrainians immediate protection for a minimum of one year, as well as the right to live and receive benefits in the country of their choice," Musalo continued. "Comments by European leaders have demonstrated the racial bias, with statements by Bulgarian Prime Minister Kiril Petkov saying things like: 'These are not the refugees we are used to ... These people are Europeans... These people are intelligent, they are educated people...'
Musalo said the quick acceptance of Ukrainian refugees is "one of the clearest examples of how racism (as well as religious bias) impacts who is welcome and who is not."
"Compare the treatment of the Syrians with that of the Ukrainians," she said.
"During the height of the Syrian refugee crisis, when tens of thousands sought protection in
the EU, they were repelled; a number of EU countries including Hungary, Croatia and Slovenia, took the unprecedented step of attempting to close their borders," Musalo explained. "The EU tried to broker a 'burden-sharing' agreement to distribute 120,000 asylum seekers across the member states, but there was no agreement. Ultimately, the EU reached a deal with Turkey to 'outsource' its refugee protection obligations. The EU provided Turkey with funds and other benefits, and in exchange Turkey agreed to accept all 'new irregular migrants' that arrived in Greece by way of Turkey."
Much like the EU, the U.S. has also displayed instances of discrimination toward asylum seekers in the country.
"In the United States, we have seen this play out, beginning from the earliest days when Congress
enacted our Refugee Act in 1980, which was designed to bring U.S. law into alignment with our
protection obligations under the 1951 Refugee Convention and 1967 Refugee Protocol," Musalo explained. "The U.S. said that the protections enshrined in the Refugee Act did not apply in international waters and returned Haitians fleeing persecution by boat directly to their home country. Haitians and other asylum seekers of color have continued to be treated differently from their white counterparts."
In March 2020, the U.S. also put into effect the Covid-era restriction, known as Title 42, to expel asylum seekers, and the policy has been used over 2.5 million times to turn migrants away since the coronavirus outbreak.
"This closure has remained in effect to this day," Musalo said. "Yet last year the Biden administration exempted arriving Ukrainians from the policy. Asylum seekers from many other countries — including Haitians, Cameroonians, and Indigenous asylum seekers from Central America — continued to be denied their right to seek protection."
The U.S. Department of State touched upon the "significant human rights" issues in Rwanda — the country to which British officials plan to send some asylum seekers — in its annual Country Reports on Human Rights Practices.
The department's 2022 human rights assessment, released last month, did not mention the UK's new immigration policy in its report for Rwanda but listed some of the country's human rights issues: unlawful or arbitrary killings; torture or cruel, inhuman, or degrading treatment or punishment by the government; transnational repression against individuals located outside the country, including killings, kidnappings, and violence; serious restrictions on free expression and media; and serious government restrictions on or harassment of domestic and international human rights organizations; and so on.
So far, no refugee has been flown to Rwanda as part of the UK's new immigration policy. The first flight was blocked by an injunction from the European Court of Human Rights, and the policy was hit with roadblocks over the last few months. However, the policy saw a legal victory last December after London's High Court ruled that the policy was lawful.
While opponents still continue legally challenging the policy, Braverman said efforts are being taken to start flying asylum seekers out to Rwanda "before the summer."
"We are calling for an end to the UK's demonization of refugees and migrants and call for safe routes to be opened to all nationalities," Qureshi said.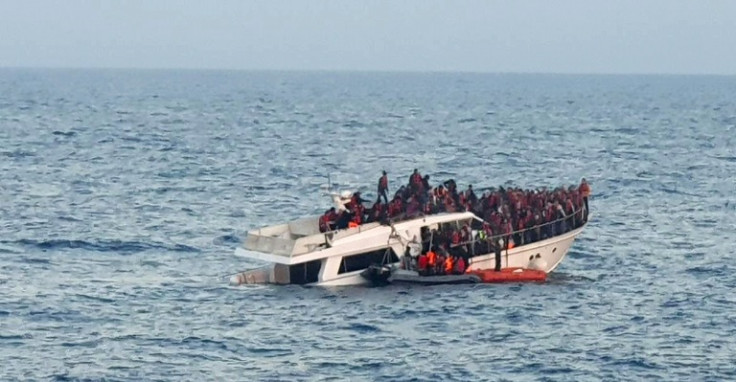 FOR FREE to continue reading
✔️ Unlock the full content of International Business Times UK for free
offer available for a limited time only
✔️ Easily manage your Newsletters subscriptions and save your favourite articles
✔️ No payment method required
Already have an account? Log in
© Copyright IBTimes 2023. All rights reserved.