Britain Defends Rwanda Asylum Plan As 'Compassionate'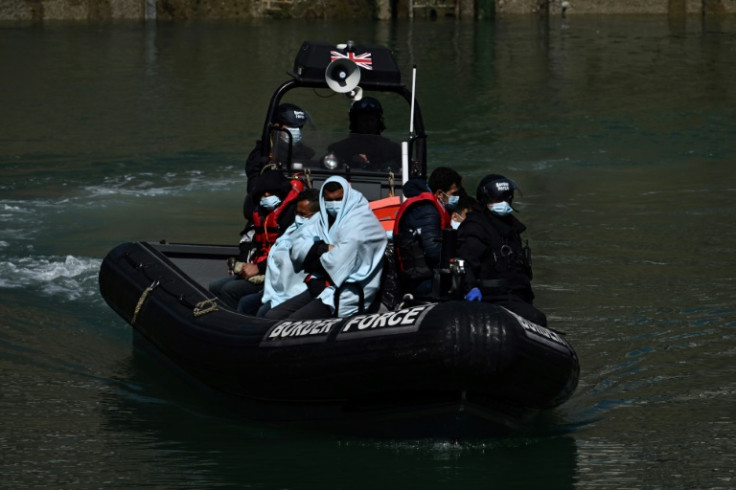 Britain's interior minister defended a controversial plan to deport asylum seekers who arrive in the UK illegally to Rwanda during a visit to the country on Saturday, saying it was "compassionate".
The UK's conservative government has made tackling illegal immigration a priority, and it was a key promise as the country left the European Union.
It is seeking to outlaw asylum claims by all illegal arrivals and transfer them to "safe" third countries, such as Rwanda, in a bid to stop thousands of migrants from crossing the Channel on small boats.
"I sincerely believe that this world-leading partnership between two allies and two friends, the United Kingdom and Rwanda, will lead the way in finding a solution which is both humanitarian and compassionate," Home Secretary Suella Braverman said in Kigali.
She spoke alongside Rwandan Foreign Minister Vincent Biruta, who said the move "will not only help dismantle criminal human-smuggling networks, but also save lives".
More than 45,000 migrants arrived on the shores of southeast England on small boats last year -- a 60-percent annual increase on a perilous route that has been used by more people every year since 2018.
The government, which is trailing in opinion polls, has been striving for years to tackle the crossings.
It had hoped the threat of a one-way ticket to Rwanda, where migrants would remain if accepted for asylum, would deter the cross-Channel journeys.
But that plan, announced by former prime minister Boris Johnson last year, was blocked at the last minute by the European Court of Human Rights (ECHR), which is separate to the EU.
It was then upheld by the High Court in London, but has been mired in appeals. No flights to Rwanda have yet taken place.
Rights groups accuse Rwanda -- ruled with an iron fist by President Paul Kagame since the end of the 1994 genocide that killed around 800,000 people -- of cracking down on free speech and opposition.
In Britain on Saturday, thousands of people took to the streets of cities including London, Glasgow and Cardiff to demonstrate against the plan.
Anti-racism protesters in the British capital carried signs reading "no human being is illegal" and "Safe passage, not Rwanda".
Some British media including the BBC and The Guardian newspaper were not invited to cover the interior minister's visit to Rwanda.
© Copyright AFP 2023. All rights reserved.