Ukraine Crisis: Government Forces Withdraw From Debaltseve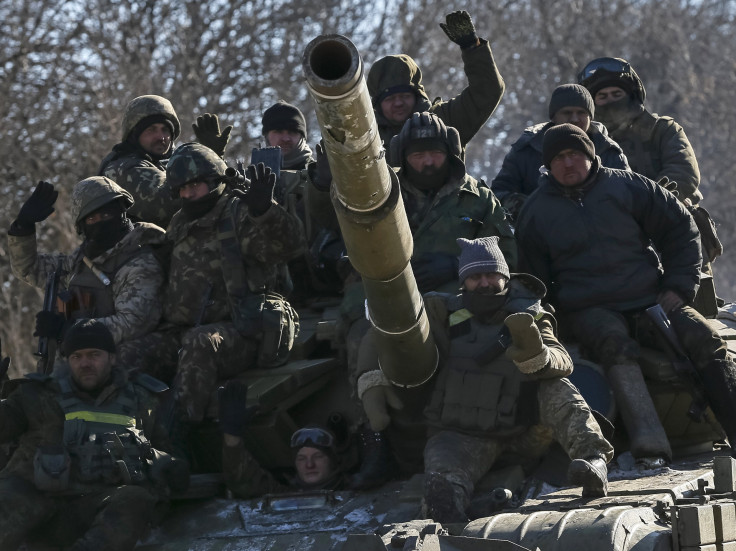 Ukrainian forces began withdrawing from the town of Debaltseve early on Wednesday, according to media reports. The announcement was reportedly made by Semen Semenchenko, a Ukrainian parliamentary deputy who heads the Donbass paramilitary unit, on his Facebook page.
"The withdrawal of troops from Debaltseve is underway as planned and organized," Semenchenko reportedly said. Ukrainian President Petro Poroshenko also said on Wednesday that 80 percent of the troops had left the embattled town, while the rest were preparing to move out. The withdrawal comes a day after Tuesday's mutually agreed upon deadline to remove heavy artillery from the frontline.
In recent weeks, Debaltseve, a strategically placed town in eastern Ukraine, has come under fierce attack from Moscow-backed separatist forces. The rebels reportedly claimed that the ceasefire, which was negotiated by Ukraine, Russia, Germany and France at a summit in Minsk, Belarus, last week, was not applicable to Debaltseve, which has an important rail hub that connects it to stations in the coal-rich Donbass region.
Mykola Kolesnyk, another Ukrainian paramilitary leader, reportedly said that not all forces were pulling out of the town. "We are talking only about units which are surrounded in populated areas in and around the town," he said, according to Reuters.
Maksim Leshchenko, a leader of the self-proclaimed Donetsk People's Republic, said on Wednesday that several members of the Ukrainian military had abandoned Debaltseve, leaving regular Ukrainian troops demoralized.
"Debaltseve is currently being swept, the Ukrainian troops there are demoralized, the commanders have left, and there is practically no mobile phone service because the communications tower was destroyed," Leshchenko said, according to Donetsk News Agency, cited by Russia's state-owned Sputnik News.
The separatists also claimed on Tuesday that they had taken control of Debaltseve and asked the Ukrainian forces to surrender and abandon their weapons -- a claim that Ukraine has denied.
© Copyright IBTimes 2023. All rights reserved.
FOLLOW MORE IBT NEWS ON THE BELOW CHANNELS