Ukraine Crisis: US Sending 3,000 Troops To Latvia, Estonia, Lithuania For Military Exercises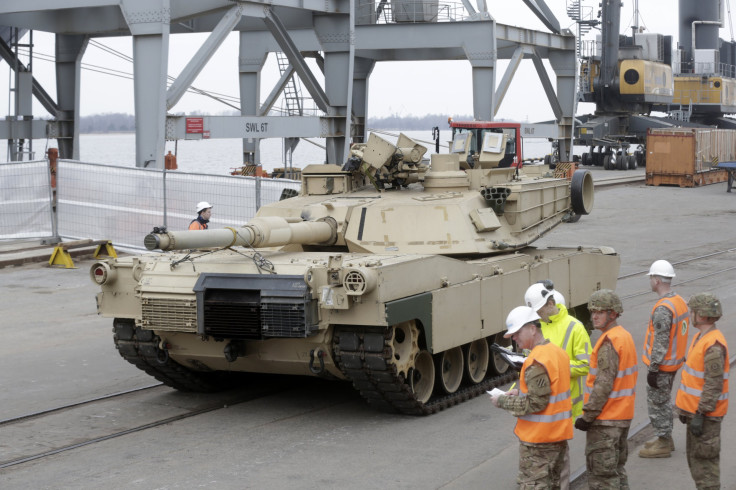 The United States is sending 3,000 soldiers near Russia's doorstep for training exercises with the militaries of Estonia, Latvia and Lithuania, the Associated Press reported Monday. The deployment by the Pentagon comes amid rising tensions with Russia on the crisis in Ukraine, in which most of the West accuses Moscow of instigating the military conflict between pro-Russia separatists and the Ukrainian military.
Estonia, Latvia and Lithuania are all NATO countries that gained membership in the alliance in 2004. About 750 U.S. tanks, helicopters and other equipment are scheduled to arrive in the Latvian capital of Riga next Monday, Army Col. Steve Warren told the AP. The military exercises are expected to last three months, although Army Gen. John O'Conner said the equipment will stay "for as long as required to deter Russian aggression," according to the Russian news agency Tass.
The exercises were planned as the three countries become increasingly concerned over Russia's aggression in eastern Ukraine, according to the AP. "The presence of our allies in Latvia is a confirmation of solidarity and security in the region," said Latvian Defense Minister Raimonds Vejonis, according to Tass.
Despite a ceasefire reached between Ukraine and pro-Russia rebels that was agreed to last month, heavy fighting persists in eastern Ukraine. A Ukrainian soldier was killed and three others were wounded in fighting in the region Sunday, a Ukrainian military spokesman told Reuters. "There is increased activity of sniper groups. The serviceman who was killed died at the hands of a sniper," the spokesman, Andriy Lysenko, told the news wire service.
Ukraine believes the ceasefire, brokered in Minsk in February, is being used by rebels to regroup and plan a large offensive. "Illegal armed groups are actively involved in combat training, gathering resources and rebuilding technical readiness, Lysenko said. The rebels deny the assertions.
© Copyright IBTimes 2023. All rights reserved.