Ukraine News: Japan Urges Putin To Respect Ceasefire As Shelling, Unidentified Convoy Hit Rebel-Held Donetsk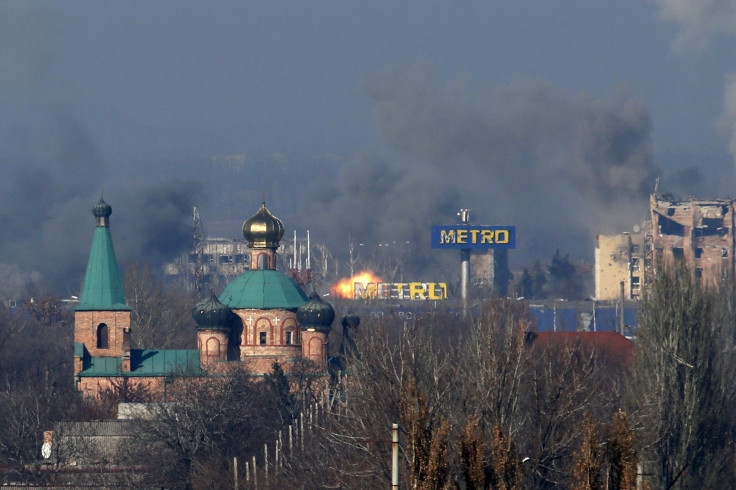 Violence ramped in Eastern Ukraine Sunday as the rebel-stronghold of Donetsk got hit by some of the heaviest shelling and fighting it has seen in more than a month. It is still unclear who carried out the attack but the presence of an unidentified knot of troops and artillery prompted Japanese Prime Minister Shinzo Abe to urge Russian leader Vladimir Putin to uphold the ceasefire signed nearly two months ago.
Abe spoke to Putin at a bilateral meeting in China Sunday during the 25th annual Asia Pacific Economic Cooperation summit and said Russian involvement was complicating the situation in Ukraine, Reuters reported. The Organization for Security and Cooperation in Europe (OSCE) said Sunday it was monitoring two convoys of unidentified trucks. Their presence could mean Russia violated the terms of the ceasefire and could lead to a resurgence of violence in the area.
Abe "strongly urged" Putin not to get involved, Reuters reported. Japan's comments on the conflict are a much stricter stance than earlier in the fighting. Tokyo has doled out lighter sanctions on Russia than the United States or European Union. Russia has denied sending reinforcements to Eastern Ukraine throughout the conflict, something Ukrainian officials said they are certain is untrue.
"Although the OSCE did not specify to whom the equipment and soldiers belonged, the Ukrainian military has no doubt of their identity," military spokesman Andriy Lysenko told Reuters.
Rebels and government forces appeared to exchange artillery and machine-gun fire as blasts could be heard from the city center toward the Donetsk airport and government-controlled suburbs and vice-versa, the Wall Street Journal reported. Two convoys of 17 trucks each filled with heavy weapons and "multiple-launch rocket systems" were seen moving west in rebel-controlled areas of Eastern Ukraine Sunday, according to OSCE.
Their presence could "represent a potential for significant reinforcements of heavy weapons to the Ukrainian separatists," a NATO spokesperson told Voice of America.
The OSCE is concerned "about a resurgence of violence in the eastern regions of Ukraine and about activities leading to more fragility instead of further stabilization of the situation," OSCE Chairman Didier Burkhalter said in a statement released Saturday.
Ukraine, Russia, the rebels and the OSCE signed a ceasefire in mid-September after months of fighting that left around 4,000 people dead.
© Copyright IBTimes 2023. All rights reserved.