Ukraine Sends Troops East As Part Of 'Anti-Terrorist Operation,' Gives Monday Ultimatum To Separatists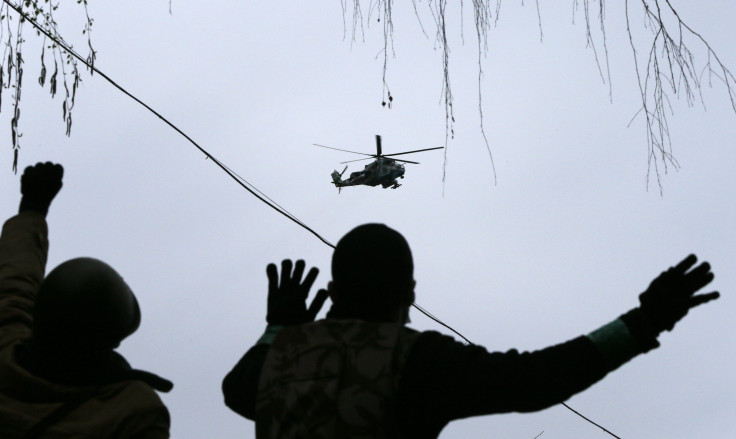 Update, Sunday, 10:30 p.m.:
Strong condemnations and accusations were traded Sunday night as the U.N. Security Council held previously unscheduled meeting to discuss the crisis in Ukraine, CNN reported.
The situation is "very dangerous," and "further escalation of this must be swiftly stopped," Vitaly Churkin, the Russian ambassador to the U.N., said. "It is the West that will determine the opportunity to avoid civil war in Ukraine," he added, calling for national dialogue.
According to CNN, U.S. Ambassador to the United Nations Samantha Power accused Russia of spreading disinformation and igniting instability. "The human stakes of what is happening in Ukraine are extremely high," Power said. "The lives of innocent civilians are at risk yet we are being bombarded by Russian disinformation and propaganda, while the Ukrainians are being confronted by incitement and violence."
Power continued, "This instability was written and choreographed in and by Russia."
Ukraine's U.N. Ambassador Yuriy Sergeyev vowed not "to let the Crimea scenario repeat in eastern Ukraine," stressing that the government is readying a counterinsurgency plan to strike the "armed terrorists."
"We demand to leave us in peace," Sergeyev said. "It's really the final warning cry."
Original story:
The Ukrainian military is moving into the eastern part of the country to calm unrest breaking out across cities in the Donetsk region. Ukrainian and Western officials say the tensions are being inflamed by Russia.
The interim president of Ukraine called it a "large-scale antiterrorist operation," and is responding to the increasing numbers of heavily armed men popping up in the eastern, pro-Russian part of the country. He gave separatists until Monday to surrender their weapons and leave occupied government buildings or face military action. He said those who comply and do not fire at Ukrainian forces will have amnesty.
The video below is not confirmed, but claims to show Ukrainian trucks and equipment moving towards Mariupol, an eastern Ukrainian city near the Russian border.
The Kyiv Post reports that Ukrainian officials claim they have "concrete proof of Russia's secret agency involvement in the separatist insurgency and takeovers of government buildings in eastern Ukraine," and will present it at a special summit in Geneva this Thursday, April 17. That summit includes U.S. Secretary of State John Kerry, Russian Foreign Minister Sergey Lavrov, Ukrainian Foreign Minister Andriy Deshchytsia and the EU's High Representative for Foreign Affairs and Security Policy Catherine Ashton, according to Haberler.
The New York Times reports that Ukrainian special forces engaged in gun fights early Sunday with separatist militants who took control of a police station in Slovyansk. An adviser to the Ukrainian authorities in the area said the gunmen were a mix of mostly local pro-Russian supporters and some Russian operatives.
At least one Ukrainian security officer and one pro-Russian militant were killed in the fighting.
Speaking on Russian state television, ousted president Viktor Yanukovych said the CIA was behind Ukraine's decision to use force in Donetsk. He claimed CIA director John Brennan met with the government officials in power after he was run out of the country, but Associated Press reports there is no independent confirmation that the CIA or Brennan are involved with the decisions of the new Ukrainian government.
Meanwhile, U.S. Ambassador to the U.N. Samantha Power said the actions of the pro-Russian contingent in the east "has all the tell-tale signs of Moscow's involvement."
The U.S. has been heavily emphasizing their assertion that the Russian government is behind separatist actions in the east. U.S. Secretary of State John Kerry reiterated Power's comments in a phone call to Russian Foreign Minister Sergey Lavrov. The State Department told Time magazine that Kerry "made clear that if Russia didn't take steps to de-escalate in eastern Ukraine and move its troops back from Ukraine's border, there would be additional consequences."
So far the U.S. has only placed economic sanctions on Russian elites, but has moved military equipment into European NATO countries.
Russia has called for an emergency meeting of the UN Security Council to discuss the events in Ukraine. The Security Council will meet at 8 p.m. EDT.
© Copyright IBTimes 2023. All rights reserved.