Ukraine Update: Alleged Russian-Backed Terrorists Set Off Deadly Explosion At Rally Marking Ouster Of Yanukovych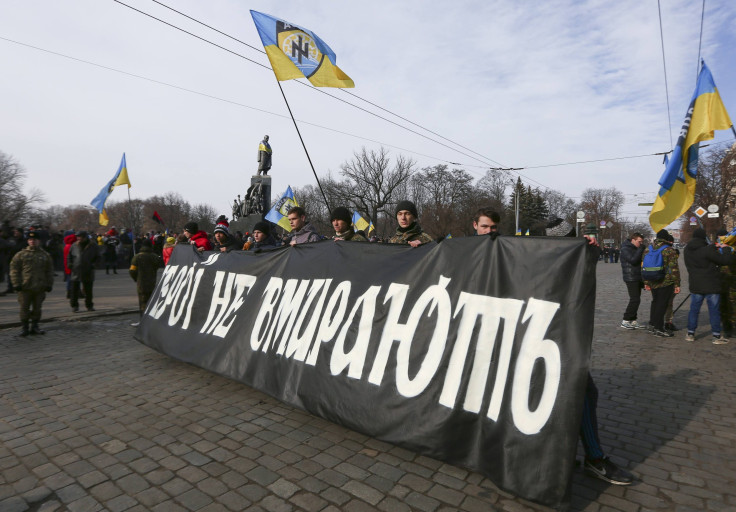 Ukrainian authorities said they have captured four men allegedly responsible for a terrorist attack on a rally in Kharkiv marking the one-year anniversary of the ouster and exile of former President Viktor Yanukovych. At least two people were killed and 11 injured, authorities said. Five of the injured were police officers.
The attack came amid fears Russian-backed separatists would attack the port city of Mariupol, the largest government-held city in eastern Ukraine, dubbed "New Russia" by Moscow. The Ukrainian military said government troops were under attack despite the ceasefire that took effect last week.
Markiyan Lubkivskiy, a senior official in Ukraine's Security Service, said in a Facebook post that alleged Russian-trained terrorists attempted to attack the demonstrators, the Kiev Post reported. Lubkivskiy said the suspects were arrested with a "Russian-produced 'Shmel'" rocket launcher and allegedly were planning "other sabotage and terrorist activities." He said the suspects had been trained in Belgorod, Russia.
Moscow had no immediate comment, Reuters reported.
Olexandr Turchynov, head of the National Security and Defense Council, said the alleged terrorists had a cache of weapons when they were arrested.
The Post said hundreds of demonstrators were participating in Sunday's rally in Ukraine's second-largest city when an explosion rocked the area. Witnesses said an explosive device appeared to have been timed to explode once marchers arrived in the square, but a truck moving ahead of the marchers delayed their arrival, limiting casualties.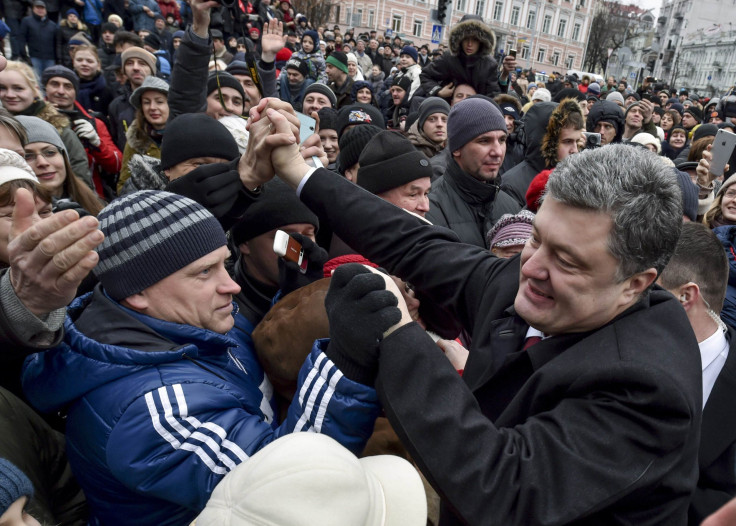 Reuters reported marchers were waving flags and chanting, "Glory to the heroes," just before the blast.
"Today is memorial Sunday, but on this day terrorist scum revealed its predatory nature," Ukrainian President Petro Poroshenko said on Facebook. "This is a brazen attempt to expand the territory of terrorism."
Attendees at the march told the Post that it appeared the explosive device had been hidden nearby.
"The march was delayed by 10 minutes, then just as people started to move, we saw the explosion go off just 100 meters [328 feet] away, to our left and on the road side. It seemed like the device was hidden in the snow near a tree," marcher Dmitriy Komaykov told the Post. "Luckily a truck was maneuvering there, and it took most of the shrapnel. I saw two dead, lying in blood, just next to the truck, which was completely torn apart by metal shards. Can you imagine if it had been later? My wife and I went to the march with our baby daughter and our older son."
Russian-backed rebels largely ignored the week-old ceasefire around Debaltseve, where fighting continued until the rebels captured the strategic town. Reuters reported the two sides exchanged prisoners overnight and the rebels said Sunday they would begin withdrawing artillery from the front. However, Kiev said more troops and armor appeared to be moving into eastern Ukraine from Russia.
© Copyright IBTimes 2023. All rights reserved.