Ukraine Vote For Sovereignty Declared A 'Farce' Amid Reports Of Voter Fraud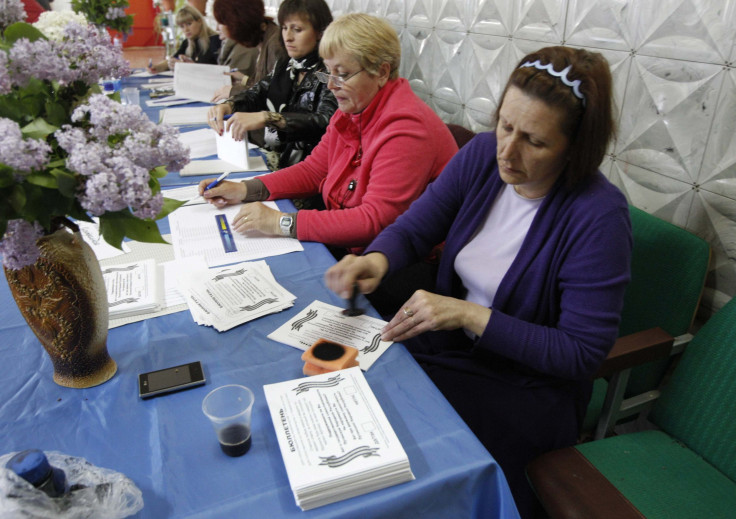 Two unofficial referendums held in eastern Ukraine were declared a "farce" on Monday, with no legal basis, by the Kiev government and the West.
Pro-Russian separatists in the Donetsk and Luhansk regions have said 89 percent and 96 percent, respectively, have voted for "self-rule." Russia said it will respect the outcome and urged the results of the vote to be implemented without violence. However, it has not detailed what further actions should be taken.
Before the polls closed, pro-Russian separatists said the region will form its own state bodies and military. Others have said the region's fate – whether secession or annexation by Russia – will be decided later.
A spokesman for pro-Russian separatists in Luhansk said they may hold a referendum to join Russia, state news agency RIA reported.
"If this decision (to hold a referendum on joining Russia) is taken, then, respectively, the will of the people will be taken into account," RIA cited a spokesman for the pro-Russian separatists.
Throughout the polling process on Sunday, several news organizations, including CNN and BBC, witnessed several people voting twice at polling stations where the ballot boxes were decorated in Donetsk independence flags. Outdated registration lists were used and there were few identity checks. A report of a video also surfaced with three men arrested near Slovyansk with boxes of "yes" ballots in their car.
"These processes are inspired by the leadership of the Russian Federation and are destructive to the Donetsk and Luhansk regions' economies and threaten the lives and welfare of citizens and have the aim of destabilizing the situation in Ukraine," acting Ukrainian President Oleksander Turchinov said in a statement. "The farce, which terrorists call the referendum, will have no legal consequences except the criminal responsibility for its organizers."
Russian President Vladimir Putin's office encouraged talks between the Ukrainian government and with representatives of the eastern part of the country following Sunday's vote. The Kremlin suggested the Organization for Security and Cooperation in Europe moderate these talks.
Swiss President Didier Burkhalter said in a statement Monday that Ukraine has accepted a proposal to nominate Ambassador Wolfgang Ischinger as OSCE co-moderator for round-table discussions to open up a national dialogue in Ukraine.
German Foreign Minister Frank-Walter Steinmeier said he would travel to Kiev on Tuesday to promote "dialogue" ahead of the scheduled May 25 presidential elections.
"We have to be prepared for what to do if someone prevents the elections on May 25. It that is going to happen... then we have to think about further sanctions," he said.
© Copyright IBTimes 2023. All rights reserved.