Ukraine's Su-25 Jets Losing To Russia's Su-35 Fighters? UAF Pilot Express Desire For F-16s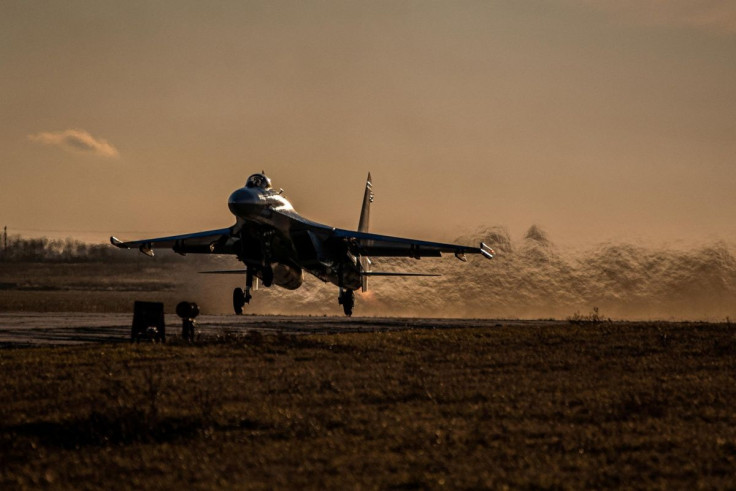 KEY POINTS
A senior Ukrainian official voiced concerns regarding Russia's Su-35 fighter jets
The official said Ukraine's aging Soviet-era aircraft lack necessary capabilities to effectively counter Russia's threat
The Ukrainian pilot expressed a strong desire to operate technologically superior US-made F-16 fighter jets
Ukraine's Su-25 aircraft, introduced in the 1980s, are at a significant disadvantage when compared to Russia's technologically advanced Su-35s. Equipped with sophisticated radars and long-range missiles, the Su-35s reportedly outperform the aging Su-25s in terms of capabilities and technological advancements.
In a revealing interview with CNN, Oleksyi, a Su-25 pilot who goes by the callsign "Pumba," sheds light on the harsh reality they face, stating, "We encounter significant losses of our aircraft due to these interceptors."
Oleksyi and his fellow pilots have firsthand knowledge of the devastating toll exacted by the loss of numerous comrades since the start of Russia's full-scale invasion a year and a half ago.
Pumba said, "I lost my squadron leader and my wingman in combat. They are both heroes of Ukraine."
Amid the ongoing conflict, Pumba has been serving in the Ukrainian Air Force. As Ukraine transitions to an offensive stance, the role of assault aviation pilots, including Pumba, becomes increasingly indispensable and vital.
Despite facing numerical and technological disadvantages compared to their Russian counterparts, the Ukrainian Air Force remains actively engaged in providing vital support to the Ukrainian ground forces at the front lines as the counteroffensive gains momentum.
Meanwhile, a senior Ukrainian official voiced concerns regarding Russia's Su-35 fighter jets, expressing worry about the increasing dominance these advanced aircraft provide Russia in the skies above the conflict zone in eastern Ukraine, as reported by the Eurasian Times.
The official highlighted that Ukraine's aging Soviet-era aircraft lack the necessary capabilities to effectively counter the formidable threat posed by Russia's advanced Su-35 fighter jets.
While acknowledging the limitations of their Su-25 aircraft, the Ukrainian pilot expressed a strong desire to operate technologically superior US-made F-16 fighter jets.
A MiG-29 pilot known as "Juice" told CNN that the availability of F-16s in the Ukrainian counteroffensive could potentially lead to significantly improved effectiveness and safety for ground personnel.
Recently, a representative from the State Department stated that the process of transferring F-16 fighter jets to Ukraine, whether from the United States or another allied nation, would involve a significant timeframe and would likely take several months to complete.
Stan Brown, the principal deputy assistant secretary for the Bureau of Political-Military Affairs at the State Department, clarified that the United States has not officially announced any plans for transferring F-16 fighter aircraft to Ukraine. However, the United States does support the intentions of other allied nations to provide such aircraft to Kyiv.
According to reports from The Defense Post, the Russian government, through Foreign Minister Sergey Lavrov, has expressed concerns about the potential transfer of F-16 fighter jets to Ukraine. Lavrov stated that if Western-made F-16 aircraft were observed in Ukrainian airspace, Russia would be compelled to take retaliatory actions.
© Copyright IBTimes 2023. All rights reserved.