Ukrainian Pilot Held By Russia Prisoner Exchange? Vladimir Putin To Decide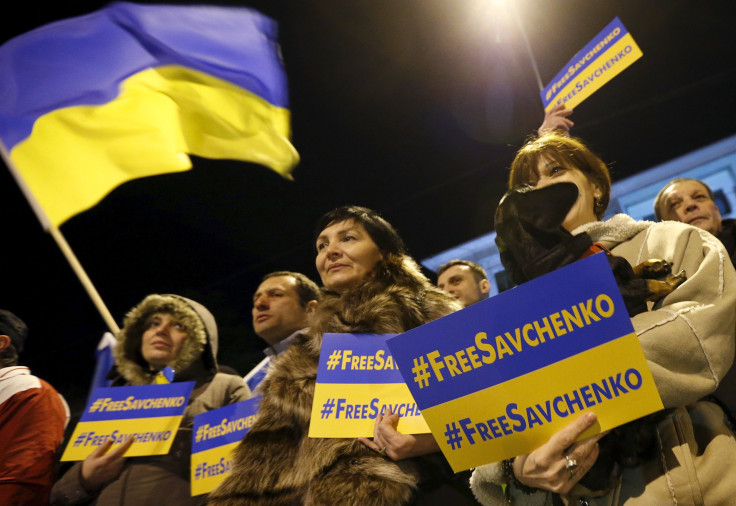 A day after a Russian court sentenced Ukrainian pilot Nadiya Savchenko to 22 years in prison, proposals for a prisoner exchange between Russia and Ukraine were still on the table, Kremlin officials said Wednesday.
"We hear of proposals on the swap, and the issues will be considered in full accordance with the Russian legislation, the decision is taken by the head of state," said Foreign Minister Sergey Lavrov referring to Russian President Vladimir Putin, Russian news agency Tass reported.
Putin will make the final decision on whether to exchange Savchenko for two Russian soldiers held by the Ukrainian government. Lavrov said Russian officials have been discussing the issue with German officials, including Foreign Minister Frank-Walter Steinmeier, who has called for a "humanitarian solution" to Savchenko's case. Steinmeier and U.S. Secretary of State John Kerry arrived in Moscow Wednesday to hold talks with Russian officials on the conflicts in Syria and Ukraine. Kerry, who has spoken about Savenchenko's case in the past, is expected to raise the issue with Russian officials.
Savchenko, 34, has become a symbol of defiance and pride for the Ukrainian people following her imprisonment and trial. The Ukrainian pilot who was elected to the country's parliament in absentia, has denied all the charges against her, including that she directed an artillery team to fire at Russian journalists Anton Voloshin and Igor Kornelyuk in June 2014 while she was fighting in eastern Ukraine. Savchenko said she had been captured by Russian forces before the deaths of the two journalists.
Ukrainian officials said Wednesday they would discuss the possibility of imposing sanctions against Russian officials involved in the Savchenko case. Ukraine President Petro Poroshenko had a call with United Nations Secretary-General Ban Ki-moon Wednesday to discuss the case. Savchenko has resorted to hunger strikes in the past and said she would begin a new one after the sentence was handed down. Officials from the EU have made statements calling for compassion in the case.
The conflict in eastern Ukraine that began in April 2014 has pitted government forces against Russian-backed rebels and resulted in the deaths of more than 9,000 people and the displacement of 1.4 million. Russia has continued to deny any direct military involvement and accused the Ukrainian government Wednesday of ignoring a peace deal signed last year, the Associated Press reported.
© Copyright IBTimes 2023. All rights reserved.