Ukrainian Troops Knock Out Russia's Lone 'Black Eagle' Prototype Tank At Sumy: Report
KEY POINTS
The T-80UM2 battle tank may have been a part of a larger convoy
The wreckage was spotted by a team of researchers on March 17
Several destroyed trucks were found near the tank at Sumy
Russia has lost its only prototype of the T-80UM2 experimental main battle tank in a battle with Ukrainian troops. The mangled remains of the tank, called "Black Eagle," were spotted in Sumy Oblast, in northeastern Ukraine.
The wreckage was spotted by a team of researchers at the Oryx blog, who believe the tank may have been knocked off during a confrontation on March 17. There is also a possibility that the remains weren't uncovered until now.
The Black Eagle may have been a part of a larger convoy of Russian vehicles that came under attack by the Ukrainian Armed Forces, as evident from the destroyed trucks seen nearby. While the turret of the tank seems to have been destroyed, its hull was seen charred, though it is clear what hit it, according to The Drive
According to Military-Wiki.com, the tank was developed in the late 1990s and was set to replace the then aging T-80 and T-72 main battle tanks. It was also marked as the next generation of main battle tanks for the export market of the Russian Army.
However, mass production of the tank never happened, due to a financial crunch. The research gained during its production later went into the creation of T-14 Armata. The prototype was never seen publicly after a mock-up of the same was first demonstrated at a weapon expo in 1997.
But, spotting the prototype in Ukraine has piqued the interest of military watchers who believe that the deployment of the one-off pre-production prototype tank hints that the Russians were putting everything they have into the war.
However, The Drive added that it was unlikely that Russia had depleted its stock on high-end armored vehicles to such an extent that the prototype had to be thrown into the battleground.
While Russia's decision to deploy questionable vehicles in the battlefront has puzzled military watchers, there is a possibility that Kremlin wants to test out different capabilities against modern battlefield threats. The report added that the T-80UM2 may have been deployed to assess how its protection features fared against the advanced weapons used by Ukraine, like the anti-tank missiles. The Black Eagle is the only one deployed by Russia in the fighting so far to feature an active protection system.
The tank's presence in Ukraine could also be a precedent for sending advanced systems to Ukraine, like in the way the rare BMPT-72 Terminator armored fighting vehicle, was first introduced to frontline service last December.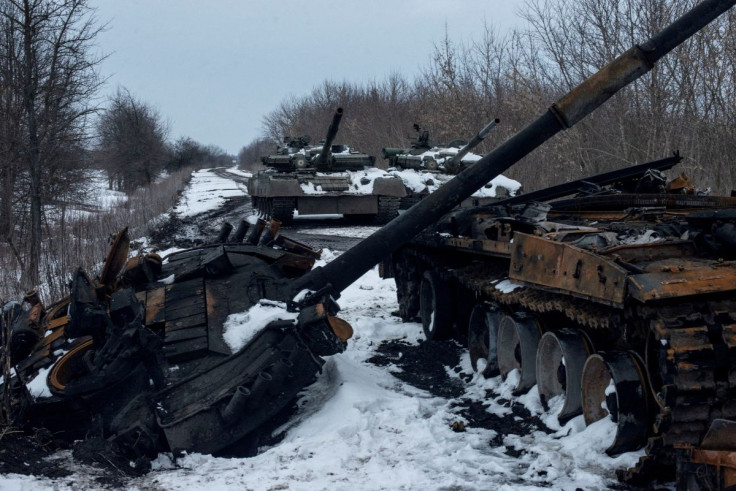 © Copyright IBTimes 2023. All rights reserved.