Ukrain's Femen Activists Protest Nude: Influential Rapists Re-Arrested After Demonstration, Charged with Murder Attempt (PHOTOS)
Activists of Ukranian women's rights group Femen staged a topless protest in front of the state prosecutor's office in Kiev Thursday, demanding capital punishment for the three influential men accused of allegedly gang-raping an 18-yer-old teenage girl, strangling her and setting her on fire in the Ukranian city of Mykolayiv earlier this month.
According to reports, the two accused, sons of former government officials, were let free over lack of evidence due to their political influence.
The incident had sparked a mass protest across the country due to the reckless and lenient investigation of police. Civilians and some members of parliament also demanded a death sentence for the accused, Daily Mail reported.
The prosecutors accused the police of a hasty inquiry in the case, even when the victim's mother insisted that her daughter was in a position to speak.
The victim, Oksana Makar, miraculously survived the horrendous suffering even after 55 percent of her body was burnt and doctors had to surgically remove one of her arms and both her feet.
I thought I would not survive. I could not feel my body. At first, I was screaming for help.... But there was nobody there, Makar told Gazeta.ua in an interview. I began to pray. I thought I had died. I remember it all as if in a fog.
The accused, Maxim Prisyjnikov (23), son of the regional administrator, and Artyon Pogosyan (21), son of the regional prosecutor, purportedly invited her to their friends' apartment and raped her.
Makar was found unconscious, burnt and wrapped in a sheet in a dumping pit at a construction site in Mykolayiv with heavy injuries on her body.
The demonstrations have led to a re-arrest call for the three suspects who are charged with murder attempts by Ukranian President Yanukovych.
The fuming Femen campaigners demonstrated outside the general prosecutors office, naked and chanting The country hungers for a revenge, Death to the sadists!' and 'Execute the b****s!.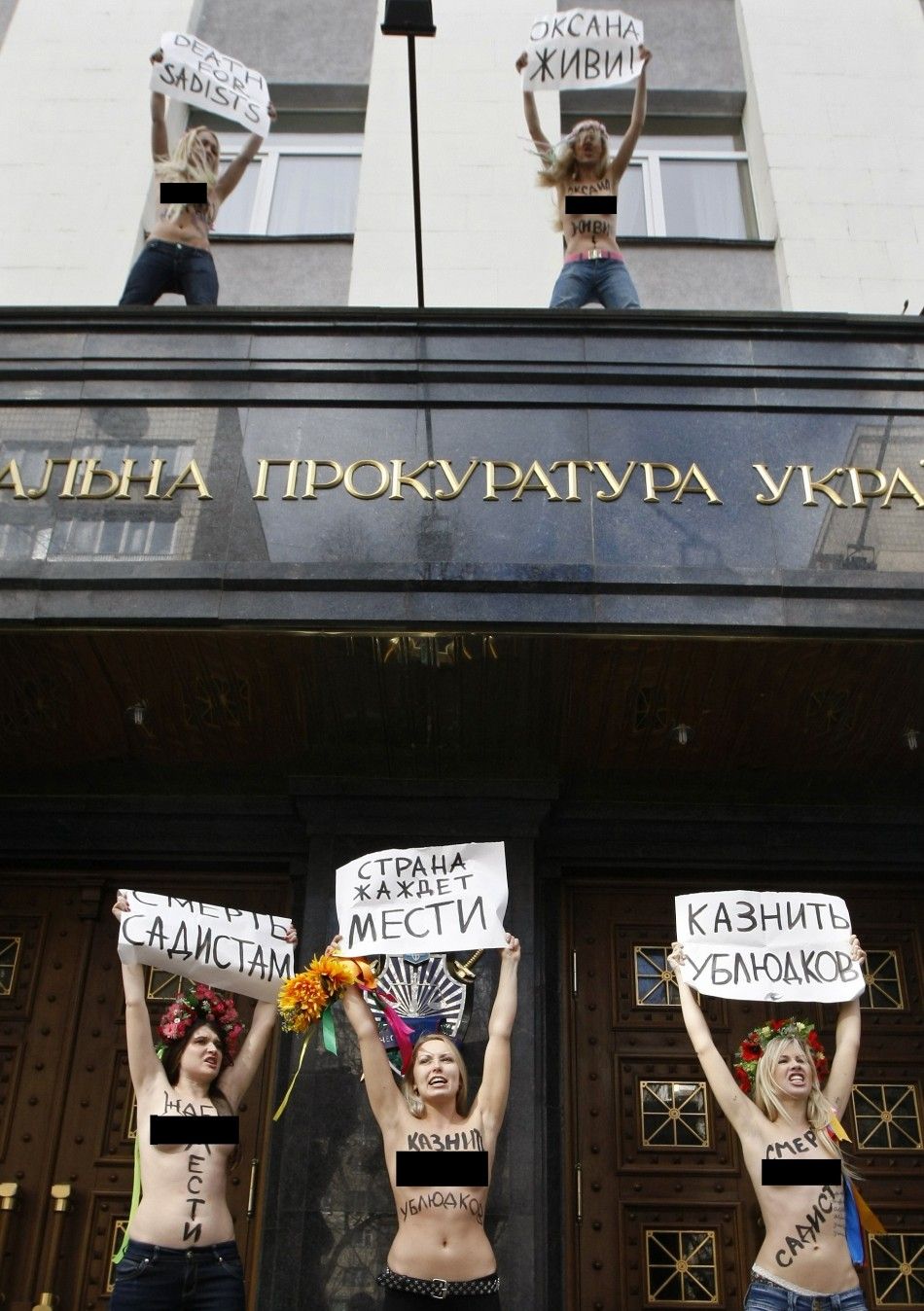 © Copyright IBTimes 2023. All rights reserved.