UK's 'Unwavering' Support To Ukraine Eroding? War Fatigue Raises New Challenge To Team Zelensky
KEY POINTS
U.K.'s support is key to the Ukrainian war effort
Popular fatigue about support for Ukraine comes at a critical time for Kyiv
Britian's ability to offer financial aid to Kyiv may also be decreasing
Ukraine's counter-offensive in the south started Monday
Six months into Russia's invasion of Ukraine, apprehensions are being expressed that public support for sanctions against Russia may be shifting in the United Kingdom, one of the staunchest western backers of Kyiv, and that the country's capacity to offer support for the Ukrainian war effort may run low by the end of the year.
This comes at a crucial time for Ukraine as its forces are pushing hard to reclaim territory back from the Russians with a much-anticipated counter-offensive that started Monday. Without sustained and substantial international support, Ukraine's military abilities to prosecute the counter-offensive will be severely constrained, and the war of attrition will grind on.
The Russian invasion of Ukraine, which began on Feb. 24, has brought war and hardship to the European continent on a scale it has not seen since the Second World War. Russia calls it a "special military operation."
A U.S.-led effort by the western powers and NATO to bolster Ukraine's military with advanced weapons and training, which helped Russia's smaller neighbor resist and beat back the Russians, has grabbed headlines all over. Europeans also willingly accepted millions of refugees who streamed out through the battered country's western borders. But, now with energy bills rising from higher fuel costs and their economies feeling the pain from the war and the sanctions on Russia, western sentiment may be shifting. Questions are being asked on how the conflict will end and whether anyone is seriously working toward an endgame.
In the U.K. for instance, a YouGov survey showed that although Britons continue to support sanctions on Russia in the face of the cost-of-living crisis, between March and June, their willingness to support further sanctions has fallen. A report in The Sunday Times (UK), which quoted the YouGov poll conducted in March soon after the Russian invasion began, showed that 48% of people supported further sanctions on Russia even if it meant higher energy bills against 38% who opposed the measure. Tellingly, by June these figures had reversed — only 38% supported new sanctions and 45% opposed them.
These findings are significant as outgoing British Prime Minister Boris Johnson has been one of the staunchest supporters of Ukraine. Johnson was the first major world leader to travel to Ukraine after the Russian invasion began, when he went by train to Kyiv in April, promising Britain's "unwavering" support for the beleaguered nation.
Following Johnson's resignation, Ukrainian President Volodymyr Zelensky had expressed "sadness" and hailed the "special" support Johnson had given his country. And in his resignation speech, Johnson mentioned the UK's support for Ukraine as one of the key achievements of his premiership.
Although the United States is the largest provider of military assistance to Ukraine, having committed $9.8 billion, the U.K.'s has been a key supporter too, having so far committed £2.3 billion ($2.8 billion) in military assistance to Ukraine. Its military support includes several long- and short-range missiles and rocket launchers, next generation light Nlaw, Brimstone, Starstreak and Javelin anti-tank missiles, Stormer and other armored vehicles, UAV systems, and a range of other military equipment. The UK is also hosting a training program for new and existing Ukrainian military personnel.
During a surprise third trip to meet President Zelensky and celebrate the Ukrainian Independence Day on Aug. 24, a somber day that coincided with the six-month anniversary of the Russian invasion, Johnson announced a package of £54 million in military aid consisting of 200 drones and loitering munitions.
"Let me say now, to the people of Ukraine, that I know that we in the U.K. will continue to back your fight for freedom for as long as it takes," Johnson said.
Liz Truss, termed as "more Ukrainian than the Ukrainians," widely expected to win the race to become the U.K.'s new prime minister, has vowed that Ukraine's president will be the first foreign leader she calls from Downing Street.
But media reports say western allies may be running out of ammunition to give Ukraine without hurting their own fighting capabilities, and the U.K.'s financial contribution to the war effort is likely to dry up soon. Politico reported in June that Britain was expected to take money it had earmarked for poor countries to cope with climate change and give it to Ukraine as part of its military aid drive.
Now, with the domestic cost of war rising, The Sunday Times (UK) report said indications are that public mood about the Russian sanctions is turning ambivalent.
This faltering support for sanctions is what Russian President Vladimir Putin is looking to gain from. If the war drags on with no end at sight, Putin believes that voters in western democracies will face Ukraine fatigue, and force their leadership to push Zelensky for a ceasefire and negotiated settlement, helping Russia hold on to some of the territory it has gained.
It is a possibility that cannot be ruled out as Zelensky faces the double-challenge of not only keeping Ukrainians motivated to fight despite the large swathes of the country being in Russian hands, but also ensuring unwavering international commitment to his country's cause. Zelensky has already come a long way from calling on the west in January not to create panic to complaining that the west was not doing enough. Ukraine is now pushing for more arms support and demanding further tightening of sanctions against Russia, a tough demand to make to western governments already facing popular resentment about the rising economic pain.
Oleksii Makeiev, Ukraine's ambassador and special envoy for sanctions, writing for the Atlantic Council argued that a strong Ukraine is the best solution to Europe's Russia problem.
"The current war is not just about Ukraine. It is a struggle to determine who gets to set the rules the whole world will live by," he wrote.
Makeiev appealed to western countries to hold firm in their support for Ukraine. "The price of human lives is being paid by Ukrainians every day," he said. "This is the price which is being paid to make sure you in the U.K. and Germany and in Poland are not hit by cruise missiles every day. So this is the ... request of solidarity."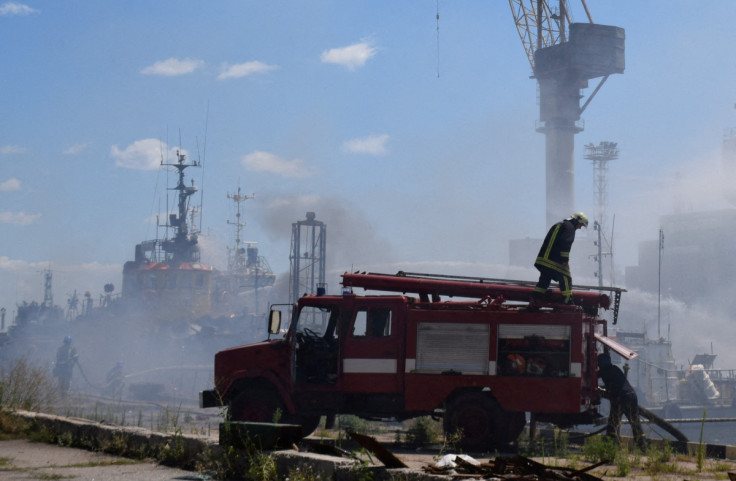 © Copyright IBTimes 2023. All rights reserved.
FOLLOW MORE IBT NEWS ON THE BELOW CHANNELS